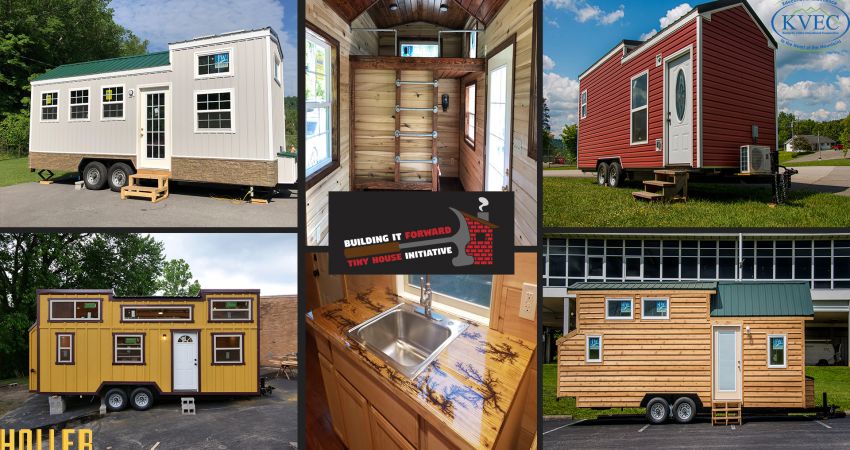 You are invited to bid on the quality Tiny Houses innovatively designed and constructed by students in your local school districts. The Building it Forward project, sponsored by the Kentucky Valley Educational Cooperative (KVEC), is an investment in creating a 'future story' for students interested in learning skills for a real-world vocation. The project is designed to be on-going and sustainable each year. The completed homes are auctioned and the money re-invested to complete a new Tiny House each year.
All houses will be on display at 412 Roy Campbell Drive in Hazard, Kentucky adjacent to the KVEC office at the Job Site Center. The auction end date is July 16th at 3 P.M. after which, buyers will have 15 days to pick up their homes. This project is about Building It Forward each year; once the auction is complete, each school will have a base $15,000 and 80% of the dollar amount above the final auction bid to build a new house in the next school year.
In order to place a bid use the following link https://www.theholler.org/auctions/ Where you can see the finished builds and also view a virtual tour of the tiny houses. On June 27, 2019, KVEC will be hosting a Tiny cookout from 4-7 pm.
Early viewings of a few of the tiny houses that have arrived will be on June 11th and 12th. A guided touring on site will also be available this year starting on June 25th from 10 A.M. – 3 P.M. every Tuesday and Wednesday each week until July 16th.
For more information please feel free to contact Danny Vance at [email protected] or (606)-765-9743.
The goal for this project is for teaching and learning to be fun and applicable to post-secondary success; where students are engaged in the learning and can apply the learning to life and success in high school and beyond. Research has shown that students who participate in hands-on learning remember the material better, feel a sense of accomplishment when the task is completed, and are able to transfer that experience easier to other learning situations.
The six (6) Tiny Houses you are invited to tour and bid on from the following schools are:
Ashland Blazer High School in Boyd County
Breathitt County Area Technology Center/Jackson Independent
Floyd County Area Technology Center
Knott County Area Technology Center
Lee County Area Technology Center/Owsley County/Wolfe County
Phelps High School in Pike County