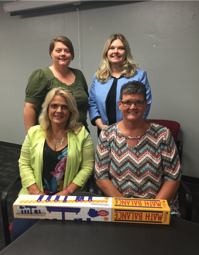 Kentucky Valley Educational Cooperative was recently represented by Mrs. Lisa Fugate, FMD teacher at Marie Roberts-Caney Elementary School in Breathitt County, and Mrs. Tammy Cook, FMD teacher at West Whitesburg Elementary School in Letcher County, at SPLASH summer training in Louisville.
SPLASH, an initiative of the Kentucky Department of Education's State Personnel Development Grant (SPDG), is a three-year program focusing on the implementation of research-based practices to improve teaching and learning in low incidence classrooms. The training focused on math and science instruction for students with moderate/severe disabilities (MSD).
Mrs. Fugate and Mrs. Cook are entering their third and final year in the program. On-going coaching support will be provided during the 2017-2018 school year by Cheryl Mathis, low incidence consultant from KVEC, and Stephanie Kidd, KVEC math consultant.