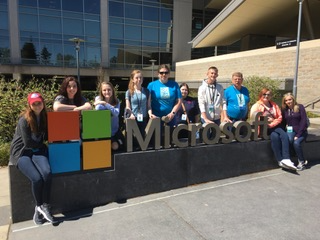 Lee County Middle High School students are fortunate to be members of Technology Education and Literacy in Schools (TEALS), a program that helps high schools throughout the U.S. build and grow sustainable computer science programs. TEALS pairs trained computer science professionals from across the technology industry with classroom teachers to team-teach computer science. Industry volunteers and partner teachers impact the students they teach, hopefully leading them toward a career in computer science.  TEALS was started in 2009 by Microsoft employee Kevin Wang, who developed and ran the program in his spare time, and is supported by Microsoft Philanthropies (https://www.tealsk12.org).
During the week of April 18th, eight students from Lee County Middle High School had the opportunity to participate in a TEALS trip to Seattle, WA.
The main purpose of the trip was to attend the Microsoft Computer Science celebration, where students were able to talk to vendors from multiple companies and universities about various job options in the computer science field.  Accompanied by the computer science teacher, Joy Neace, and chaperone William Owens, students also toured the dorms at the University of Washington. Two students expressed an interest in attending the university in the future.  Other trip highlights included touring the Museum of Flight, the Living Computer Museum, and Facebook.
The students realized the value of the experience as they recounted the events.  Gabby Kirby remarked, "My favorite thing about Seattle was the experience as a whole. Not a lot of people, especially from such a small community, can say they've traveled across the country and been to multiple major companies' headquarters. I got to meet a lot of interesting people and experience a variety of cultures, all while learning and making connections in a field that can lead me to a promising career."
Shakayla Lumpkins  stated, "Seattle was a once in a lifetime experience that opened my eyes to how many jobs are available in the computer science field."   Matthew Mashburn was awakened to the reality of the opportunities in this area and said that "through this unique experience, I got to see, first hand, the need and want of the computer science field. It was not only very relaxing, but very educational as well. I really enjoyed it."
Other students were excited to undergo their first plane flights. "Seattle was extremely fun. It was a great experience to have since I hadn't flown on a plane or traveled such a great distance from home", remarked Peri Thacker.  Similarly, Haley Mays commented, "I loved going to Seattle. I had never been on a plane before, so getting to experience that was amazing. Going across the country is something some people never get to do, so I am very thankful."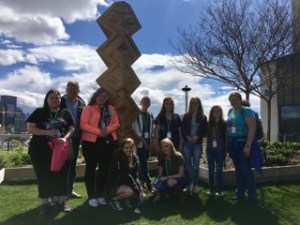 Content submitted by: Joy Neace, joy.neace@lee.kyschools.us
and Steve Carroll, steve.carroll@lee.kyschools.us