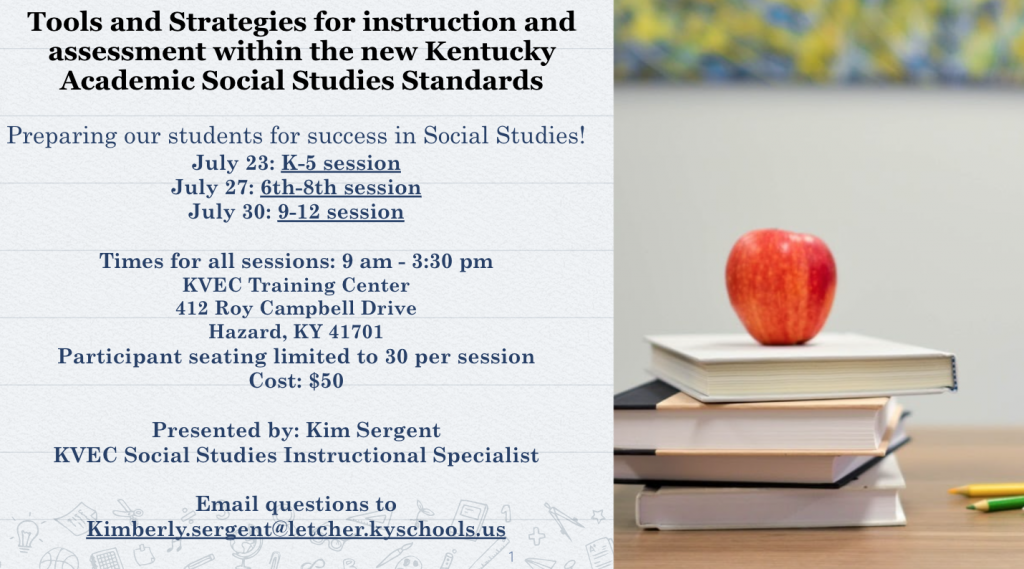 Social Studies: Tools and Strategies for Instruction and Assessment Within the New Kentucky Academic Standards 6th-8th
These sessions are targeted to the instructional and assessment needs of our teachers within our Social Studies standards, focusing on building teachers' skills and knowledge to prepare our students for success. We will model the instructional shifts teachers need to implement our new standards. In our sessions, we will address these questions:
What are the skills my students need?
How do I design instruction to support student learning and skill development using the inquiry practice standards?
How do I design rigorous assessments within the standards?
This training will take a collaborative, hands-on approach with teachers taking classroom-ready tools and resources back to their schools.
**Limit 30 attendees**
Payment Options:
Purchase Order (PO must be submitted to Valarie Campbell

[email protected]

or by fax at 606-439-1322 BEFORE July 23, 2021.)
Check (must be received BEFORE July 23, 2021)
PLEASE NOTE: Cancellations must be made to Kim Sergent at [email protected],kyschools.us at least 5 days prior to event in order to receive a refund.
Registration: