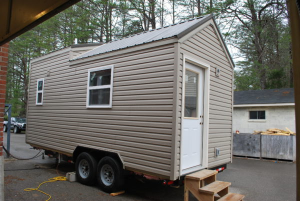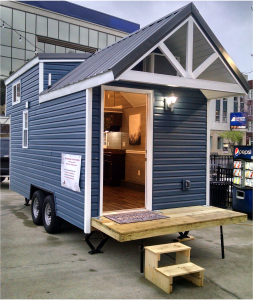 The amazing work illustrated in the construction of three tiny houses built by students at Phelps Area Technology Center (ATC) in Pike County, Lee County ATC and Knott County ATC this past school year will be expanded in 2017-18 to the constructing of eight tiny houses in the region!  Money from the online auction for the three houses will be reinvested for students at these centers to each build another small dwelling. Funding has been procured for five new projects.  New ATCs selected through an application process to come on-board this year are Martin ATC in Floyd County, Letcher County ATC, Breathitt County ATC (includes Jackson Independent), Johnson County ATC and Leslie County ATC.
Dessie Bowling, Associate Director of KVEC, recently met with instructors and principals from the ATCs to begin the planning process for the eight tiny houses.  Those who participated in the project last year discussed lessons learned and how they will revise the way they did some of the construction last year.
Each center will be documenting the work on the tiny houses through pictures and videos from the beginning of the process until its completion.  Students and instructors will present in a session at the KVEC Promising Practices Summit in October and in April 2018 all eight completed tiny houses will be transported to the Expo Center in Pikeville for public viewing during the KVEC Fire Summit.  The houses will then be sold through an online public auction.
Representatives from each ATC who attended the meeting received the first installment of $5,000 from the $15,000 allotted per project.