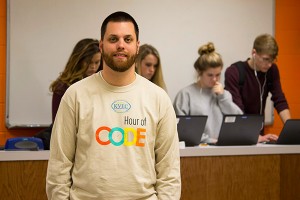 Computers are everywhere, but nationally fewer schools teach computer science than 10 years ago. Imagine an eastern Kentucky where every student understands basic coding and computer science. What could this mean for our region? However our students choose to lead in the changing economy, their ability to succeed will increasingly hinge on understanding how technology works.
Austin Williams is a senior Appalachian Technology Institute (ATI) student, a growing Appalachian Renaissance Initiative (ARI) program currently offering 372 middle and high school students introduction to computer programming courses. He shared "I'm an artist but coding offers a whole new world of possibilities. Things I create in code can really impact people's everyday lives."
Through programs like ATI and this week's nationwide Hour of Code initiative, classrooms in seventeen eastern Kentucky school districts have increasing access to creative coding opportunities and daily computer science. To kick off Hour of Code, the largest coordinated learning event in history, during Computer Science Education Week (Dec. 7-13), Betsy Layne High School hosted a coordinated coding event for over 400 students and teachers in Floyd County. Thousands of students in Kentucky Valley Educational Cooperative (KVEC) school districts coded at some point throughout the week, joining millions nationwide, and were entered into local KVEC and national Hour of Code competitions for cash and prizes.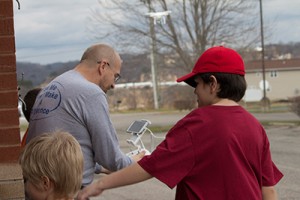 Betsy Layne ATI teacher and coding event coordinator, Kelly Boles, said "Computer science remains one of the most foreign languages to our students, and for this generation it should be a native language. It's our responsibility as educators and as a nation to make sure they're exposed to it, and develop an understanding of what is promised to be one of the best career opportunities."
KVEC hosted a culminating Christmas Coding Carnival for students of all ages that featured a variety of robots, games, and coding stations, a skype call from Santa, and ended with a drone flight over Hazard that filmed students celebrating and taking turns driving the aircraft. Dr. Katrina Slone, KVEC's Science Technology Engineering and Mathematics (STEM) lead, organized the event saying, "This type of learning nurtures problem solving, logic, and creativity, all skills we need to fuel our economy. By starting early, students have a foundation for success in any 21st-century careers. Our students need to know they can be more than consumers of technology, but also builders and developers."