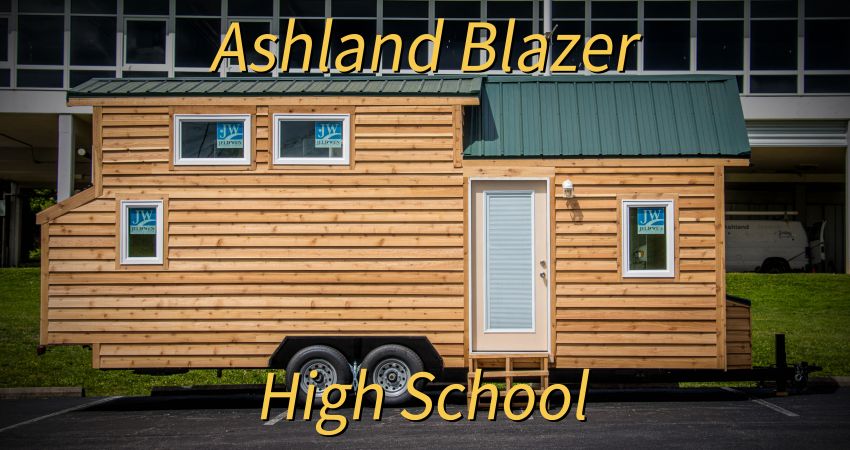 The students of Ashland Blazer High School have worked all year long to build this tiny home. It's almost impossible to fathom students building such a structure. The craftsmanship on display is something you'd never expect from a student with only a couple years of experience.
The Ashland students and teachers worked together and brought their blueprints into the physical world. This isn't an easy feat for students limited by class schedules and other school work. Yet, this home and all the others are proof of the great things students can accomplish in vocational classes. 
The photos and videos do a great job at highlighting the tiny homes, but there is nothing like seeing them in person. If you're able, then do yourself a favor and tour these tiny homes.
Viewings
Beginning June 25, prospective buyers may tour the houses in person and be guided by an experienced tradesman. Tours will be available any Tuesday or Wednesday from 10:00 a.m. – 3:00 p.m. outside the KVEC offices at 412 Roy Campbell Drive, Hazard, KY 41701 or you may join us for an open house Tiny Home celebration on June 27 from 4:00 – 7:00 p.m.
For more information contact:
Danny Vance
Email: DVance0828@gmail.com
Phone: (606) 765-9743.
Ashland Tiny House 2019
Sold for: $20050.00[19 Bids]
Reserve: [Met]Winner: An*13*ay
Auction closed
Bidding Over
First Bid: 7 months ago
Last Bid: 7 months ago
Shipping: n/a
Payment: Instructions to follow
Ends:
July 16, 2019 3:00 pm
Description
Ashland Tiny House 2019
While starting out with a Dual Axle 14,000 LB trailer purchased from P&J Trailers Sales, LLC in Paintsville, KY, we built an 8' wide x 26' long x 13'-5" Tall Tiny House which only weighs 11,500 LB with a total living space of 255 sq. ft. of storage in the front loft and 10 sq. ft. of outside storage in the utility closet on the back. Spray foam insulation was used in between the trailer beams and we used Advantech flooring as our sub-floor.
Once the sub-flooring was done, the walls were installed and then the rafters were put into place and attached to a Glulam Ridge Beam 3.125" x 5.875" x 26"
On the outside, we went with Rustic Cedar Beveled Siding, Jelf Wen Premium Vinyl Awning Windows, and Graber Metal Roofing (Hartford Green) with a Class 4 impact resistance rating.
On the inside, the walls and ceiling were insulated with batting insulation and Appalachian Red Oak Tongue & Grove Flooring was used for the floor. Appalachian Red Oak T & G 5" wide planks with a reversible pattern were used for the loft floor and ceiling and also used on the walls as wainscoting. The top section of the walls was finished out with 1/2" Oak Plywood.
There is a 50 amp electrical connection on the outside, which can be changed over to a 100 amp service if need be. All receptacles are wired with a 12-2 wire while all lights are on 14-2 wire.
The plumbing was overseen by a licensed plumber and was given a final inspection by the county inspector. This house has a Haier 2.0 Ventless Combination Washer and Dryer and an Ascent 2 Macerating toilet system all hooked into the plumbing system. All plumbing lines run to two 6 outlet manifolds with individual shut-off values which are easily accessable.
It is cooled and heated by a Senville 12,000 BTU Mini Split Air Conditioner/heat pump with a wireless remote.
There is also a Whirlpool 14.3 cu. ft. top freezer refrigerator, 19-gallon hot water tank, and two 30 gallon propane tanks.
Terms and Conditions
Click to read our bidding terms.
Overview
Building it Forward is an investment in creating a 'future story' for students through KVEC's Purpose Driven Learning opportunity that enables students learn skills to help them be successful in high school and beyond. Students learn skills in trades such as carpentry, welding, electricity; as well as, design and budgeting. The project is designed to be on-going and sustainable each year. When you acquire an Appalachian designed and built Tiny Home, your investment is given back to the schools so that students can complete a new Tiny House each year. This project was designed to engage students, teachers, schools, districts and communities in using their strengths and assets to collaboratively solve their own challenges and build capacity for improvement and innovation.
General
As you view the auction site, we encourage you to look at all the homes and the unique details of each home. This is an "AS IS" auction so any inspections on behalf of the buyer should be performed before the end of the auction. Prospective buyers may tour the houses in person and be guided by an experienced tradesman.
Bidding
All bids placed must be at least $50 more than the previous bid (after the starting bid has been met). Bidding in excess of $50 will result in the minimum bid and act as a reserve, automatically outbidding other bidders up to that amount. Bidding implies a serious expression of interest in purchasing the tiny house and does not create a formal contract. The sale is only final after payment is received and the buyer has claimed his/her house.
Payment & Pickup
After the completion of the auction, the winner will receive a notification email. The winning bidder will have 24 hours to contact KVEC to confirm acceptance of the bid and make purchasing arrangements. If the winner fails to respond or is unable to provide payment, the second highest bidder will be contacted. Payment can be provided upon pickup; choosing the preferred payment method from money order, cashiers check or personal check. Buyers will have to pick up the houses personally using a vehicle with a tow hitch after payment. Buyers are responsible for the safe transport of the houses to  their final destinations and all sales are final after the houses are picked up. KVEC is not responsible for incidents that occur during transport of the houses and will not accept returns after the houses have left the lot.
Proceeds
After the auctions have concluded, the starting bid, along with 80% of the amount above that, will be re-invested with each of the schools for the next build. The remainder of the amount will go to KVEC for administrative costs that include auction and open house expenses.