Ashland Middle School participated in Samsung's Solve For Tomorrow competition this school year. Samsung's impact goal is to give students the chance to build leadership skills, apply their knowledge of STEAM and make an impact on their community while competing to win technology for their school.
To Help Ashland Middle School win this competition Vote Here!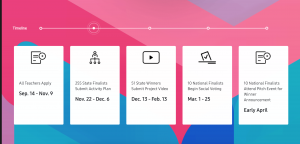 Like much of Appalachia, Ashland, KY has been hit hard by the opioid crisis. While we know we can't solve this problem, we also can't stand by and do nothing. Through collaboration with our local police, fire, and health departments, as well as various other community partners, we discovered 3 areas that we can help. The first problem we addressed was with the collection of needles. The brave individuals that attempt to rid our streets of needles and other drug paraphernalia put their personal health at risk so we wanted to make a safer way to collect these items. Next, we created a website that can be used as a data collection point that can help first responders locate and address drug hotspots. Finally, we created an awareness website that can be used to disseminate tips and resources to the members of our community.
Ashland Middle School was the Kentucky state winner and will automatically receive $25,000 in Samsung technology. As of right now, Samsung is judging the final 51 participants videos to narrow it down to the final 10 schools that will have the chance to win up to $50,000 – $150,000 in Samsung technology. Ashland will find if they made the top 10 sometime in early March 2018.