Breakout EDU is bringing innovation into classrooms at Hazard Middle School. Based on "escape rooms" that have recently become popular, Breakout EDU's small boxes—which include an assortment of locks, invisible ink pens and UV flashlights to read the secret messages—are a hit among HMS sixth grade students and sixth grade teachers Ashley Haynes and Cassidy Steele. Breakout EDU 's game-like tasks all have standards embedded, and there is something to offer for each content area, along with "breakouts" even for adults to use during professional development. 21st century learning skills are hallmarks of Breakout EDU. With each "breakout", players will take part in collaboration and team work, problem solving, and critical thinking.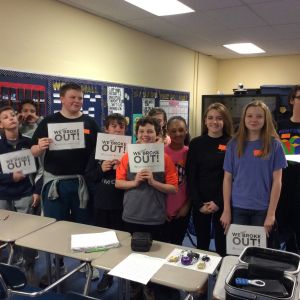 Ms. Haynes utilizes Breakout EDU in her math classes, while Ms. Steele engages her students with Breakout EDU in her Language Art classes. "It was like a puzzle" and "It made me feel really smart!" were some of the students' responses to the activity. Arguably the best aspect of using Breakout EDU is the high level of student engagement that translated into improved student achievement. While "breaking out" and using 21st century learning skills, students didn't even realize they were learning because they were having so much fun! "We had to work as a team," stated one student. By observing students while doing Breakout EDU lessons and having them take student voice surveys prior to and after completing "breakouts", their engagement from these tiny boxes is more than evident.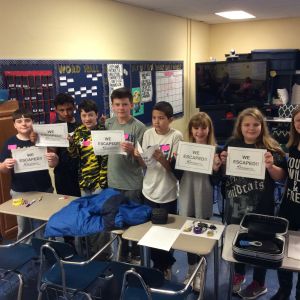 The average percent of growth compared to prior knowledge after a Breakout activity was 35%!! This is the complete opposite of the traditional "sit and get" lessons that we often relate to school. Students are up, moving around the classroom, working with their teammates, racing against the clock to "break out" of their boxes, all the while gaining content-specific knowledge. One sixth grade student remarked, "This is fun!!! Solving the problem was the best part!" The teachers would probably argue that authentic student engagement was the definitely the"best part"!