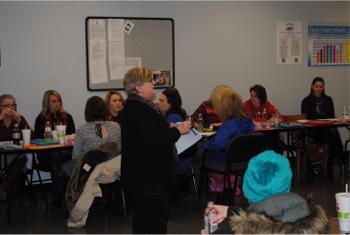 From the beginning of the implementation of the Appalachian Renaissance Initiative (ARI), the Kentucky Valley Educational Cooperative (KVEC) has operated on the premise of 'abundance versus scarcity' as it relates to the resources found in rural communities.  Far too often our Appalachian communities are depicted as resource-poor and opportunity-deprived in relation to educational and economic settings.
Ruby Payne, renowned author of Bridges Out of Poverty: Strategies for Professionals and Communities, outlines ways for individuals and organizations to evaluate strengths and challenges they encounter when partnering with those living in poverty.  The Bridges workshop, conducted by Bernadette Carpenter (ARI Innovation Lead for KVEC), requires a personal reflection of poverty first before examining programming and policies that impact education. The focus of the workshop is on how to train individuals working directly with impacted families, design and/or refine new and existing programs, and build skill sets for long-term success.
The Floyd County Early Childhood Program viewed the workshop as an essential resource needed for staff to better understand families and children early in the educational journey and how they might partner to ensure student success.  As approximately 40 early childhood educators participated in the training, Krystal Barker, Preschool/Headstart Teacher at Prestonsburg Elementary, reflected that her "aha moment today was when I learned that individuals in poverty have a very different way of thinking about important life issues.  Their values may be different than those of middle class America."
Anna Shepherd, Floyd County Director of Head Start and Preschool, summed it up like this,  "I realize that our early childhood program is the first opportunity to serve families and children in our community as we enroll children ages three and four. Bridges Out of Poverty offers strategies for professionals and communities to help us be the best we can for those we serve. The collaboration, communication and welcoming attitude along with service that our early childhood staff provide sets the tone for future success in school and life for both the family and child/children we have enrolled in our program and school system."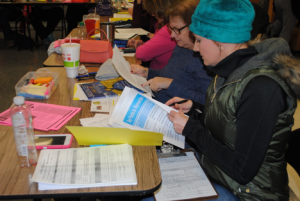 Floyd Co. early childhood educators reflect on their beliefs and attitudes toward poverty and how it impacts their teaching and relationships with students and families.
For more information about Bridges Out of Poverty Workshops or opportunities to utilize this valuable resource within your community, contact Bernadette Carpenter (bernadette.carpenter@hazard.kyschools.us ) or Jim Tackett (jtackett@centertech.com).
Authored by Jim Tackett , jtackett@centertech.com