Kentucky Education Commissioner Wayne Lewis held the second town hall forum in Hazard on Thursday, October 10 seeking public feedback on the state's new minimum high school graduation requirements.
Lewis and Kentucky Department of Education (KDE) staff will hold two other forums and one online forum will be held via webinar and feedback will be solicited electronically for those who cannot attend in person.
The times, dates and locations of the town halls include:
  *   Oct. 15, 2019, 6-7 p.m. CST, Green River Educational Cooperative (GRECC), 230 Technology Way, Bowling Green
  *   Oct. 30, 2019, 5-6 p.m. CST, Hopkinsville Community College, 720 North Drive, Hopkinsville
Commissioner Lewis said from the feedback they have received there is much misunderstanding and misinformation on the new requirements. Kentucky's new minimum high school graduation requirements became law, 704 KAR 3:305, On April 5, 2019.  The changes add "graduation prerequisites" and "graduation qualifiers" to ensure students have basic math and reading skills, as well as experiences that can help them be prepared to enter college or the workforce.
Lewis urged the audience to visit the KDE website https://education.ky.gov/curriculum/hsgradreq/Pages/default.aspx for more information about the minimum high school graduation requirements. To receive links to the webinar and portal for submitting feedback when they become available, complete this online form: https://forms.gle/Ze8LP6PFnE84gjEk7
Lewis pointed out that Kentucky is one of the leaders in high school graduation rates, however, the state does not do as well as it should in students going on the college or being college or career successful.  He stated that 23% percent of the students going into postsecondary education needed remediation and only a fraction of them earn a credential or degree before exiting.  "We must do better," Lewis maintained.
During the discussion, Lewis reassured Perry County teacher Heather Collins who teaches visuality impaired students that the requirements will enable her to help special needs students to be successful.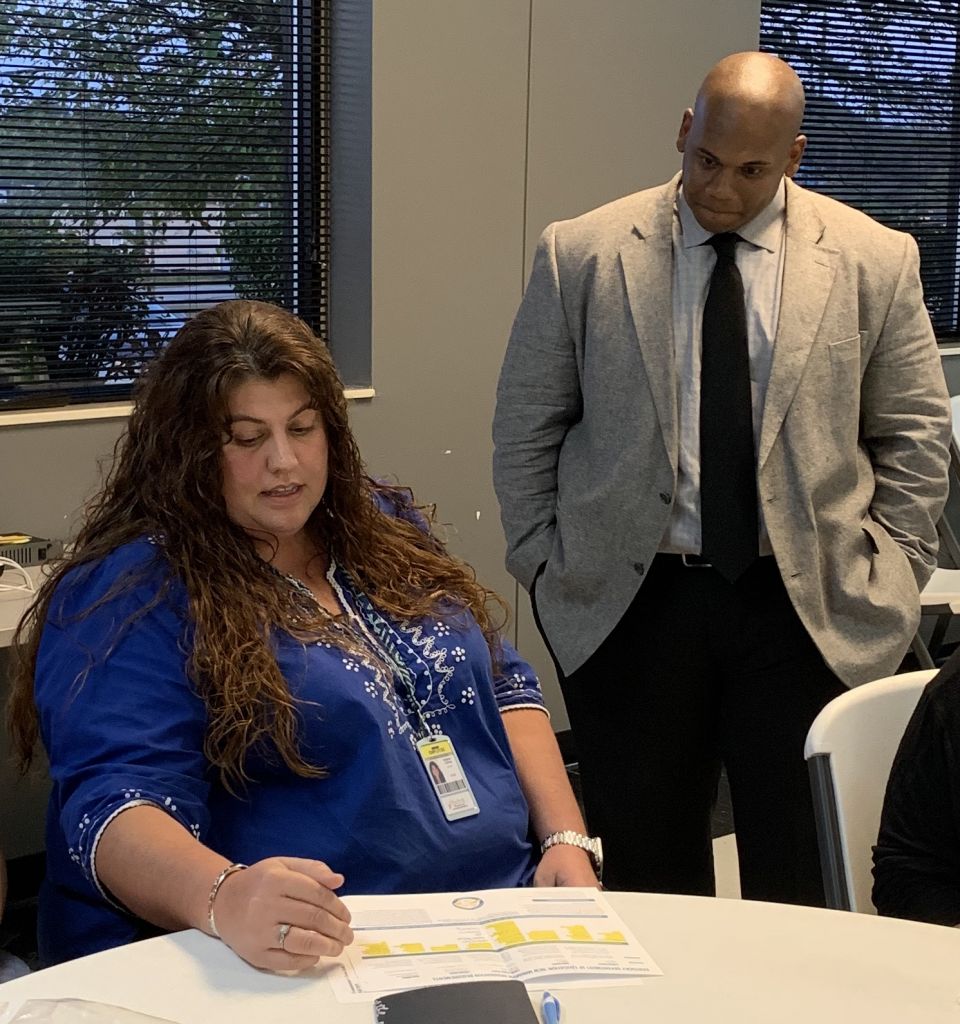 The need to increase funding for quality and effective professional learning (professional development) to prepare teachers was discussed. Lewis said a strong advocacy campaign needs to be utilized to gain support in the General Assembly. He explained that some educators had told legislators that some of their training was not worthwhile. "We need effective professional learning" and a good message to the legislature to get the funding needed, he added.
Lewis praised the professional learning going on in the Perry County schools when Superintendent Johnathan Jett described their work. Lewis also praise the work of the Kentucky Valley Educational Cooperative (KVEC) in professional learning and their micro-credentials program.
The commissioner liked the professional learning idea proposed by Dr. Jennifer Carroll of KVEC and told his staff to explore the concept.  Carroll said, "KVEC seeks to help districts and schools provide professional learning for educators that engages them in clinical learning, like doctors and nurses who learn on the job in the settings in which they work.  KVEC also knows that the true measure of successful professional learning is that it must improve professional practice as well as improve student outcomes.  KVEC is already providing forms of clinical competency-based professional learning including micro-credentials, coaching and action research."
Lewis entertained other questions and met with teachers and community members.