David Trimble, Superintendent of the Pikeville Independent School District, was recognized by the Kentucky Valley Educational Cooperative for his leadership during the 2022-2023 school year. His role as the KVEC Chairman of the Board for our 26-member school districts has not gone unnoticed.
In the past year, Superintendent Trimble served as the Chairman of the Kentucky Valley Educational Cooperative Board of Directors. He consistently worked for the betterment of not only students in his district but for all in the KVEC Region.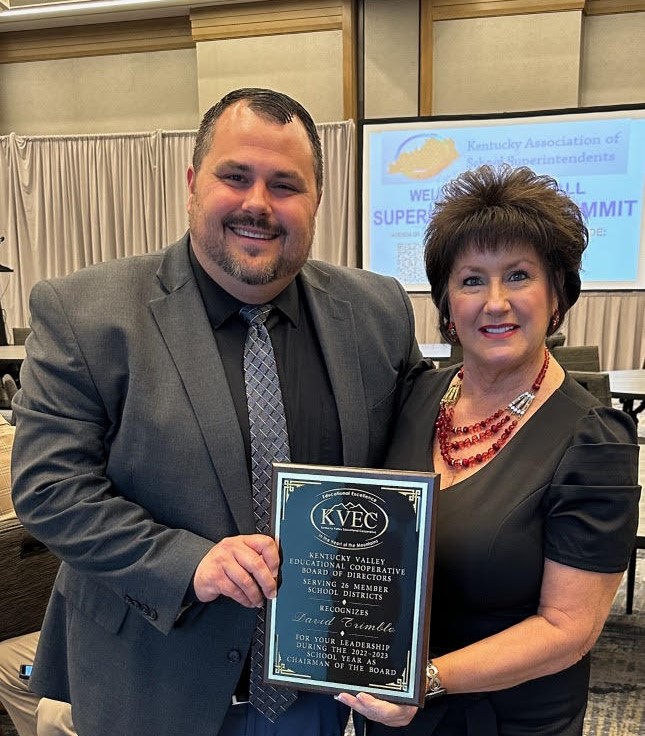 Superintendent Trimble's leadership in the 2022-23 school year at the Kentucky Valley Educational Cooperative was marked by collaboration and a genuine desire to serve. He embodies values like humility, character, and integrity, which resonate with many in our community.
During David Trimble's tenure as KVEC's Chairman of the Board, the Cooperative experienced a period of notable collaboration and growth, welcoming both Robertson and Morgan County districts into its fold. His leadership inspires hope for the future of education in Eastern Kentucky. As we anticipate the ongoing progress of his district and its students, we are reminded of the positive impact leaders like him can make.
The KVEC team extends its sincere gratitude to Mr. Trimble for his dedicated service.