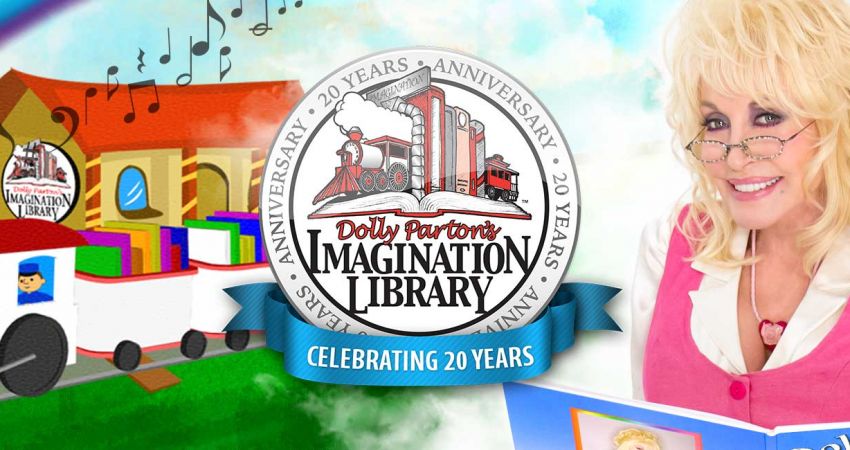 Do you remember the last time you saw a twinkle in the eyes of a child?  Was it at Christmas, a birthday or another special occasion?  Children enrolled in a popular early literacy program within several Kentucky Valley Educational Cooperative (KVEC) counties experience this excitement every month!
In partnership with the Dollywood Foundation, the Collaborative Center for Literacy Development (CCLD), KVEC and Forward in the Fifth (FIF), children in the region from birth to age 5 have the opportunity to experience the joy of Dolly Parton's Imagination Library pilot program in eastern Kentucky. More than 8,000 children have signed up for the free book service with approximately 2,000 having graduated from the program since its inception in October 2015.
Launched by country music legend Dolly Parton in her home county of Sevier, Tennessee in 1995, the initiative has expanded its footprint nationally and internationally. More than one million books are distributed to children's homes across the world each month. Each child is greeted by an age-appropriate, colorful and exciting book that is addressed to them personally.
Parton's passion for beginning such a program began at home when she witnessed her father's inability to read and the difficulties he experienced because of his illiteracy.  She saw reading as an opportunity to open the world to endless possibilities for everyone and realized that the best time to obtain these skills is at the beginning of a child's life.  "If books make kids feel special then kids will feel books are special," Parton emphasizes.
The KVEC pilot program has served children in Bell, Breathitt, Floyd, Johnson, Knott, Lee, Magoffin, Owsley, Pike and Wolfe counties. Families in Letcher, Leslie and Perry Counties previously had access to an existing local affiliate program for Imagination Library and are currently being served through other resources. Approximately 2,000 additional children are receiving books in these three counties beyond the pilot program's reach.
"We love the Dolly Parton Imagination Library program", exclaims Lee County residents Matt and Glenna Coleman, parents of Finn and Mattie. "It helps to reinforce the value of education from the earliest of ages. The free books which come in the mail monthly to our children are age and developmentally appropriate.  It makes our job easier as parents.  We are grateful for the opportunity."
Pike County Grandmother Angela Adams commented regarding her grandson Cash's participation in the program, "We were so thankful this opportunity was brought to our area. We love reading to our grandson every night. I want him to be excited about reading. I'm hopeful that if we incorporate this into our daily routine, he will have the desire to keep reading throughout his life. Imagination Library is a blessing to so many!" 
Each of the current counties within the pilot program has designated Community Champions, individuals assigned to answer questions and assist families with the registration process for the library program.  These designees are typically located at the public library and/or within the school system.
While receiving a book once a month is enough to excite the children enrolled in the program, the adults within the home have a second reason to smile.  The pilot project has created short, fun videos adding an additional tool to the book circulation program to further maximize these "monthly presents".
"Penguin Publishing granted us permission to use small sections of the selected books to illustrate and discuss simple strategies parents and other caregivers can use when reading to children", says Keith Lyons, Communications, Marketing & Promotions Director with the Collaborative Center for Literacy Development (CCLD) and pilot partner. "We want to provide practical ways in which the first teachers, our families, can easily model literacy from birth to age 5.  It is never too early to begin. The videos are free resources one can use to promote language acquisition, conversation and critical thinking skills.  The 4-6 minute clips allow for quick viewing for families with busy lives."
The videos can be found on The Holler or CCLD's website at no cost.  Currently, there are 12 videos in the series available for review and use, with more in production for the near future. The goal is to have approximately four books in each age level available as resources.
Even if children are not registered for Dolly Parton's Imagination Library or do not live in an area served by an affiliate, these video resources remain available for everyone's use.
"The gift of literacy is too frequently taken for granted", remarked Jim Tackett, KVEC ARI Readiness Lead and Forward in the Fifth Executive Director. "If we are truly interested in creating a region which will compete globally, the development of these essential skills are each of our responsibilities…families, educators and employers. Our actions must prove we mean what we say."
Based on the success of the initiative, work over the next several months will develop partnerships for long-term program sustainability both at the local and regional/state levels. For more information on the program or to participate in its expansion, contact Jim Tackett at jtackett@centertech.com.
One of Dolly Parton's well-known quotes, "You can never get enough books in the hands of enough children",  is motivation for continuing the Imagination Library in the KVEC region and for reaching out to as many young children as possible from birth to school-age by providing families with literacy materials.