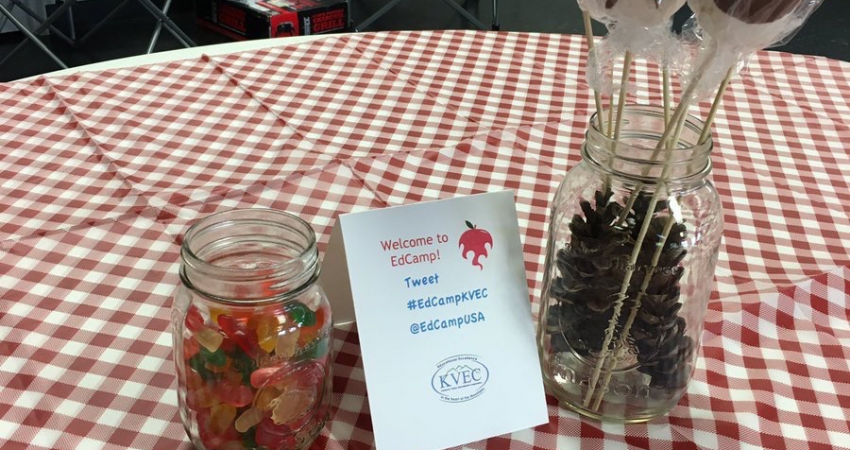 A fun and productive day for 30 teachers and administrators from eleven districts in the KVEC region consisted of them choosing and discussing their topics of interest, sharing ideas and utilizing online resources.  An extensive list of free and inexpensive materials successfully used by those in attendance was compiled.  The Core Content EdCamp hosted at the KVEC offices in Hazard on May 31 included teachers from grades K-12 who teach Math, Science, Social Studies and Language Arts.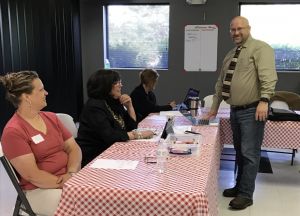 Facilitators for the breakout sessions included Kim Sergent (KVEC staff) for Social Studies, Math PAN members and teachers Michelle Scott, Josh Doyle, Christina Crace and Jennifer Howard for the math discussion. Andrew Castle (KVEC staff) facilitated Science and Bryan Auxier (KVEC staff, Paintsville Independent Schools) worked with Language Arts teachers.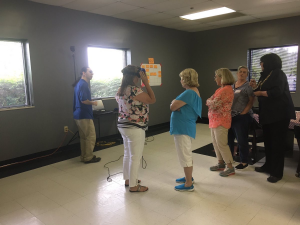 Joseph Collins from the Hazard Challenger Learning Center updated the audience about the educational programs currently available for K-12 students at the facility.  Teachers were also able to experience the Challenger Center's Virtual Reality equipment brought in by Mr. Collins.
Teachers whose roles at their schools are changing next year commented that the EdCamp helped them feel better prepared to tackle new subjects with students.
Libby Auxier, KVEC staff and co-organizer of the event, stated, "We had a fun, productive day and I think those that came would like to participate in other EdCamps. It's a really good way to leverage some of the teacher talent in our region."