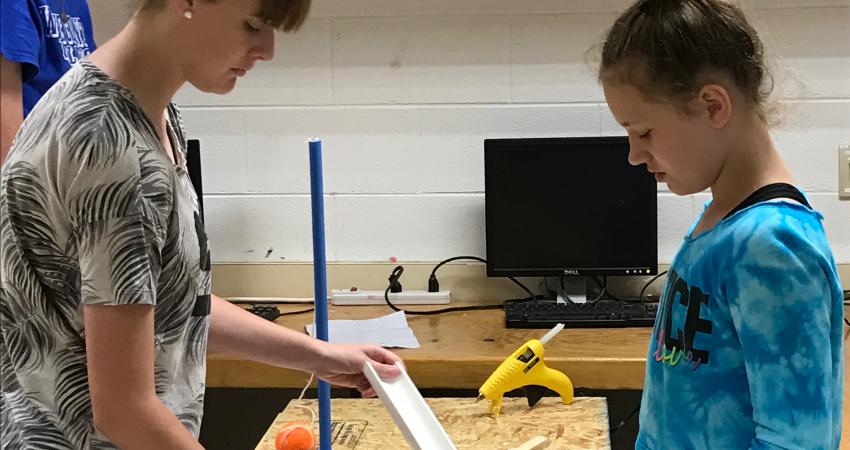 For the fourth year, retired organic chemist Gary Booth has sponsored the Wolfe County STEM Camp.  He says it's not expensive to pay a few teachers and to purchase the materials needed for the five day camp but it allows him to give back to his community.  The first camp was originated to provide remediation opportunities for struggling students; however, those students didn't show up but others did!  With approximately 50 youth from a variety of grade ranges and skill levels attending this year, the camp keeps growing and creating excitement in the county.  Mr. Booth stated, "I would like to get every high school in the mountains doing this and I know how it could be done.  People who have graduated and done well could give back to their communities by sponsoring the camps."
Students attending the camp rotate through five modules daily, receiving a variety of instruction and hands-on experiences in the fields of science, technology, engineering and math. Instructors from the Lee County Area Technology Center, along with teachers from Wolfe County Middle and High Schools, serve mainly as facilitators as the students work their way through each module.  Zach Collier, high school chemistry, physics and aerospace teacher, organizes the event annually and also serves as one of the instructors.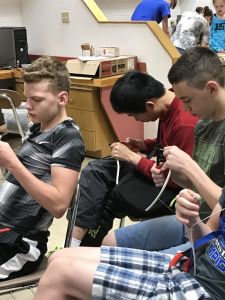 Electronics/carpentry instruction ranges from teaching students how to use wire strippers to the construction and racing of CO2 cars.  CO2 dragsters,  miniature racing cars propelled by a carbon dioxide cartridge, are frequently used to demonstrate mechanical principles such as mass, force, acceleration, or aerodynamics (https://en.wikipedia.org/wiki/CO2_dragster).  Each camp participant has his or her own kit, which includes all materials necessary to build the car.  Creativity is a huge factor in the design of the car and affects the speed of the vehicle.
Problem-solving and critical thinking skills are emphasized as the students create their own Rube Goldberg machine.  Rube Goldberg, a Pulitzer Prize winning cartoonist, is best known for his "series of popular cartoons depicting complicated gadgets that perform simple tasks in indirect, convoluted ways, giving rise to the term Rube Goldberg machines for any similar gadget or process"  https://en.wikipedia.org/wiki/Rube_Goldberg.The students at STEM camp are given the challenge of creating a 'machine' that can raise a small flag in seven steps.  The teacher has directed the students, who are working in groups, to have a beginning and an ending step and then to design their plan in between these two steps.  Sketching the plan/design enables them to identify needed materials, which they can bring from home.   Jade Carroll, a 6th grader, said the project is "fun and creative".  Christin Pelfrey, high school student, remarked that she is "learning engineering skills".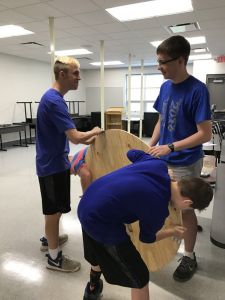 The math module includes working with modular arithmetic, math riddles, Morris Code and other interesting concepts that are not typically taught in a classroom setting.
In another module, students are assigned the task of designing and building a hoverboard, "a fictional levitating board used for personal transportation…generally depicted as resembling a skateboard without wheels" (https://en.wikipedia.org/wiki/Hoverboard).  After cutting out a large circle from a sheet of plywood, the edges are sanded for smoothness.  Using pipe, duct tape and the device of their choice (i.e., leaf blower, vacuum), the goal is for the completed hoverboard to move with a person on it.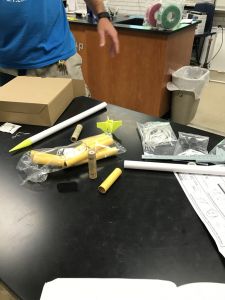 Model rockets, constructed from kits, will be launched the last day of camp.  The students have learned how to program files on the computer for the 3-D printer, which will print the nose cones and tail fins with the shapes and colors of their choice.  Measuring with a Vernier caliper was required to determine the dimensions to be programmed for the rocket pieces.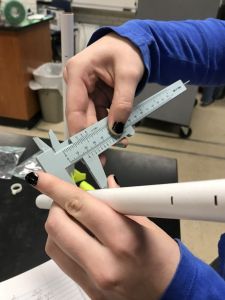 Several high school students, including Liz Gilbert, a senior and a KVEC Student Senate representative, were assisting the instructors with the modules.  Liz explained that attending the camp each year "has helped with school alot".  She said, "You get to explore what you enjoy doing and it gets kids interested in the science aspect.  We need more people, especially girls, in science and math.  It gives you opportunities to explore things you normally don't do at school, like the Morris code and making rocket parts from a 3-D printer.  You get to experience things and know what you want to do when you go to college."  Liz discussed how she will be studying aerospace engineering and professional piloting in her aerospace class at Wolfe County High School this year.  Her goal is to obtain a license to pilot planes, one to fly drones, and a hand-held radio license that would allow her to communicate with airport towers.  Liz is the only one in her class who wants to acquire the licenses, but she is trying to get others excited about it.  Because of innovative projects such as the STEM camp and aerospace class Liz is not looking forward to leaving the high school, but she knows she is going to have a solid academic background for the career of her choice.