Thom Cochran the superintendent of the Johnson County School System was inducted into UPIKE's 2022 Distinguished Educators Hall of Fame.
Since 2010, UPIKE has carried on the yearly tradition of celebrating those educators whose contributions to learning have inspired generations of students, providing them with unwavering support in their life-long commitment to the field of education.
Thom is proud to be an educator and has years of experience being a leader in education.
Public education has always been my passion as I sincerely love the work I do. For the last 25 years, it has been a privilege to help children achieve academic success as our school district prepares them to become productive members of society; I pride myself on being a true servant leader.

Thom Cochran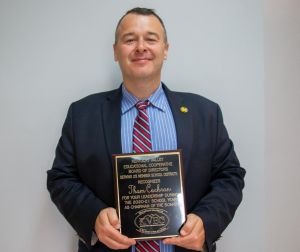 Thom along with six other educators was honored at a ceremony held on October 4, at the University of Pikeville.
When I received the call that I was being inducted into the University of Pikeville Distinguished Educators Hall of Fame, I was absolutely speechless.  For anyone to recognize the work that I do to nominate me was humbling in itself, but to be selected for this Hall of Fame is an incredible honor.  I am so appreciative of the University of Pikeville for holding Educators in such high regard, and I'm very grateful to be part of the Distinguished Educators Hall of Fame.

Thom Cochran
Thank you Thom for your dedication to your students and staff and from everyone here at KVEC we want to wish you and your district a great 2022-2023 school year.