Across the nation there exists a shortage of qualified teachers in many critical teaching areas including higher level math and science, and foreign languages. These shortage areas represent certification types where substantial proportions of teachers are being hired to teach courses without the appropriate certification, where significant vacancies exist, or where postsecondary institutions do not produce enough graduates to meet the needs. Kentucky Valley Educational Cooperative (KVEC) is certainly no exception. Our regional teacher shortages result in students who are taught fewer subjects in larger classes and sometimes with less than qualified teachers. Until now addressing critical shortage of teachers has been a dilemma for KVEC districts. Fortunately, in December 2013, KVEC and 17 partner school districts were awarded a 30 million dollar Race to the Top District (RTTT-D) grant that made possible a process for addressing the problem of critical shortages of teachers in our region.

"I want to pursue National Board Certification to benefit my students, my colleagues and my school.  This process requires outstanding educators to go much further than initial certification and a Master's degree, and I feel like my students deserve the most accomplished teacher in their classroom.  Without ARI teacher tuition assistance, I wouldn't be able to pursue such a prestigious and rigorous certification at this point.  I am so thankful that ARI teacher tuition assistance gives me the opportunity to focus on impacting my students learning and achievement through this process without worrying about the financial impact on my family." 
The KVEC/ARI Teacher Tuition Assistance Program is designed to promote teacher effectiveness by increasing the number of highly qualified teachers in regional critical teacher shortage areas. The program is designed to provide tuition assistance for teachers who are completing or plan to complete course work to secure a degree or certification in a critical shortage area, secure dual credit certification, or pursue National Board Certification.
 Research tells us that the most important factor affecting student learning is the teacher. Improving teaching effectiveness translates to student learning. KVEC is making a difference in teacher effectiveness by investing in furthering teacher education. The highly successful teacher tuition assistance program is now entering the third year of funding. In July 2016 a panel of educators met to review and award application for the upcoming school year. Listed are ARI teachers have received a tuition assistance to continue the advancement of their education in a critical teacher shortage area this falls. The following testimonials from ARI teachers provide evidence of program effectiveness and heartfelt teacher appreciation for the teacher tuition assistance project.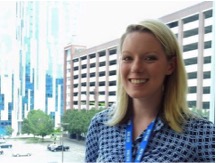 "I am very thankful to be a recipient of the ARI Teacher Tuition Assistance. Being a recipient recognizes my passion as an educator and supports my journey as a National Board Certified Teacher. The value goes beyond financial assistance as students in my classroom will continue to benefit from my continuing education for years to come."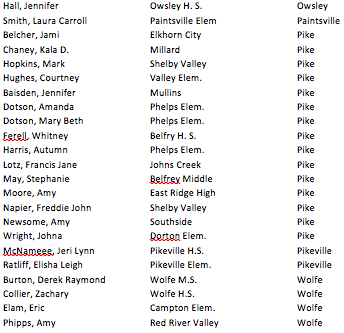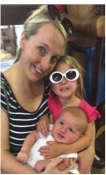 "The ARI tuition assistance grant has meant that I am able to further my education (receive my Rank 1 and National Board Certification) while continuing my job and still being dedicated to my family. This opportunity could not have been seized had I not received each of these grants"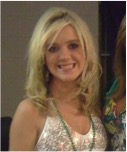 "Thank you KVEC/ARI. As a teacher in Eastern Kentucky and witnessing the devastation our region has felt due to job loss I feel that teacher tuition assistance is a wonderful benefit offered to Eastern Kentucky teachers. In today's time many families find themselves living on a strict budget, where tuition cost would leave them choosing between paying off debts, keeping utilities, or allowing their children to participate in extracurricular activities. Teacher tuition assistance allows teachers and their families the ability to live as a normal family with the anticipated bills while attending a highly credible university. Speaking from personal experience, before enrolling in UPIKE my husband (an engineering student at Morehead State University) and I had sat down to discuss the prospect of me returning to school to receive my masters. We both decided that the idea of both of us attending school was out of reach at the time, and I chose to put my education on hold while he finished his degree. Miraculously, days after deciding to wait another year before enrolling in a university where I would achieve my Masters I received notification congratulating me on being awarded teacher assistance grant. Had I not received the ARI tuition assistance my goals as an educator, student, and individual would have been delayed or potentially lost. I am speaking for those within my school, district, and state when I say that the effects of ARI are appreciated throughout Kentucky."

"Initiatives like teacher tuition assistances enable the students in rural areas to receive the best education, while making teacher leaders in many districts. My educational pursuits would have been difficult without the support from scholarship sponsors like your organization.  Thank you for this opportunity."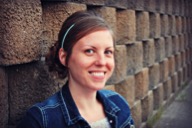 "My name is Rachel Huff, and I am a 4th Grade ELA teacher in rural Harlan County.  I hold a Bachelor's Degree in Liberal Studies and Human Development from Lincoln Memorial University where I graduated in the top 1% of my class in 2005.  Then in 2007, I returned to college and earned a Master's Degree as a Reading and Writing Specialist from Union College.  My passion for reading and literacy has been at the forefront of my career.  Because of this, my long-term goal is to become a school librarian.  Yet, financial woes and family illness prevented me from returning to college for my Rank I degree. When I heard about the Appalachian Renaissance Initiative (ARI) tuition assistance program, I immediately applied and was awarded funding. I began taking courses in the Library and Information Science (LIS) Program at the University of Kentucky during the fall of 2015.  ARI reimbursements have helped pay for the rising cost of tuition and made my dream of becoming a school librarian possible. I will graduate from UK in the spring of 2017. I'm so excited to embark on my next adventure in education. Thanks ARI for making this possible!"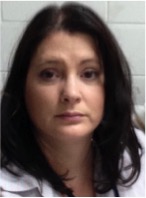 " I am Tamara Kunkel, a native of Knott County, Kentucky. I have been teaching Spanish in Knott County for 10 years; I currently teach Spanish at Knott County Central High School. I am married and have two children. My husband has been unemployed for the last two years from the coal mines, so my income alone supports a family of four. It takes every penny I earn just to pay the bills each month. Thanks to the ARI teacher tuition assistance, I am enrolled in the Teacher Leader Program at the University of Pikeville, and I will be a National Board Certified Teacher in Spanish. Without the help of the ARI teacher tuition assistance, there is no way I could afford to go back to school. Thank you, ARI, for helping me become a Board Certified Teacher Leader!"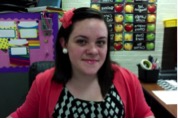 "ARI teacher tuition assistance means that I am able to further my knowledge in different aspects of education.  I am able to become a more well-rounded educator due to the assistance provided."

"The ARI grant funding has made my dreams of obtaining my Rank I a financial reality, minimizing my debt. It has also enabled me to become dual-credit certified in English, a certification that will not only open new doors for me as a teacher but one that will also keep doors open for East Ridge High School students who were in danger of losing this opportunity."

"The ARI teacher assistance program will allow me to further pursue my goals toward becoming the best educator I can be–in being ever knowledgeable of the needs of my students, and challenging their minds toward becoming upstanding citizens."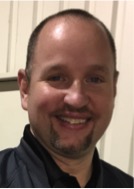 "The ARI Teacher Tuition Assistance has helped to open doors in my teaching career by providing funding that is allowing me pursue a new degree at Eastern Kentucky University; allowing me to continue to work, afford classes, and advance in the teaching profession.
The program is a blessing for educators who wanting to further their education in the career field by providing stable financial support and funding that is sufficient and significant.
I can't express the gratitude that I have for KVEC/ARI for continuing to consider me for funding in the program.  I'm truly indebted to you! Thanks so much!"

"My name is Autumn Harris. I am a second grade teacher at Phelps Elementary School. I have been fortunate enough to receive this grant to further my educational career. Working on my Masters as a Library Media Specialist the ARI Grant provided me with the option to work on this degree with tuition assistance. The ARI grant has been wonderful and I am so thankful for the opportunity it has offered me."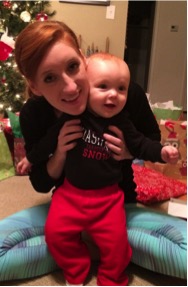 "The tuition assistance program has been a true blessing.  As a single mom it is a huge relief to have tuition assistance for my master's classes.  My goal was to pay for my classes without having to take out another student loan.  Luckily, with this tuition assistance program I have not had to do that.  Instead, I am able to use the money I have saved to put towards my child.  I am very grateful for this gracious act"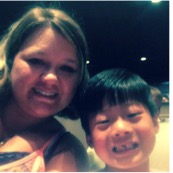 "The ARI teacher tuition assistance is so helpful in helping me attain my masters.  I had the desire to further my education, and this helped me financially to do so.  I think this is a wonderful motivational tool to help teachers to become better educators, and I will always be grateful for this."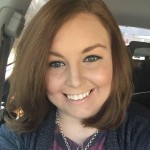 "My husband and I are both young teachers who need to complete our Masters Degrees in a timely manner.  We are currently paying off student loan debt from undergraduate study.  I have been very fortunate to receive the ARI teacher tuition scholarship twice.  This means I am able to pay my tuition for my graduate classes without accruing more debt.  I am so grateful for both times that I've received this scholarship."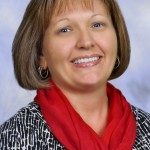 "Being the recipient of the ARI scholarship grant has meant so much to continuation of learning within the Science classroom at Belfry Middle School. In receiving the grant for Educational Technology coursework at MSU, I plan to continue work on completion of educational technology certification. 
With the innovation that ARI has brought into the Pike County school district, our teachers are being exposed to more and more technology programs which directly impact student learning. ARI has been instrumental in helping to provide one on one technology for school districts which has increased student application of content material as well as advances in use of technology and its application to STEM component. 
Students must be able to navigate using technology processes in order to keep up with and advance past their peers in other parts of our country. Our student deserve to be at the top of the line with educational advances and through the use of technology, they can match their counterparts."
"ARI is providing me an opportunity to take an integral part in reshaping the economy of my hometown and our future 'it's children'. The tuition assistance I am receiving while pursuing a Master's degree in Teacher Leadership and National Board Certification is allowing me to gain valuable resources and skills required to provide students in Eastern Kentucky with science, technology, engineering, and technology skills necessary to bring our region into the 21st Century."
Amy Newsmen
Pike County