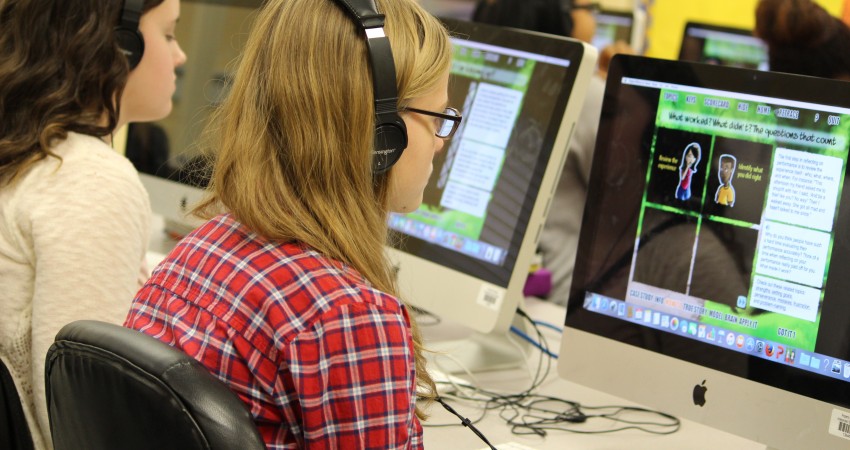 Hazard Middle School was celebrated on Friday by the Kentucky Valley Educational Cooperative for their implementation of the Ripple Effects software program.
Kentucky Valley Educational Cooperative's "Ripple Effects" proposal was chosen from more than 300 applicants as one of 22 programs approved for multiyear funding through United States Department of Education's Project Prevent. The goal of Project Prevent is to reduce violence against children and youth, by addressing trauma-related mental health concerns that are often at its root. It is the only program that is adaptive both at the level of content and learning process, so that learners find and access modules that best fits their personal needs.
The program works to allow students anonymity and space to explore various modules on topics and issues that might be impacting their daily lives.  From tardiness to self-harm, it provides an outlet for kids to hear stories from other young people that share similar emotions.  Each module provides ways to work through the problem and think about healthy steps to overcome any issues they may have.
Isabella Cobb, a 12 year-old student at HMS said she liked using the program to help think about what she wanted to do when she got older, and how to prepare for life after school.  "It helps students with problems that they have, that they don't want to talk to parents, friends, and teachers about."
Hazard Middle School was one of ten pilot schools who were identified last academic year to participate in the program, seventeen additional schools were added this school year.  Local students were involved with developing new content for the software, which was released to pilot schools in the Fall of this school year.  While HMS utilizes Ripple Effects in groups for the Advisor/Advisee sessions, 128 students out of approximately 280 (46%) have created student accounts.
Every Friday students use the program schoolwide.  It is used in various ways from working through a module as a class and talking through the solutions together, to working alone at the computer and choosing their own topic of choice.
If your school would like to make Ripple Effects available to their students, we will be releasing an application to apply this Spring, with 15 additional schools selected at the end of this school year.
For more information about Ripple Effects you can contact Lisa Garza at lisa.garza@hazard.kyschools.us