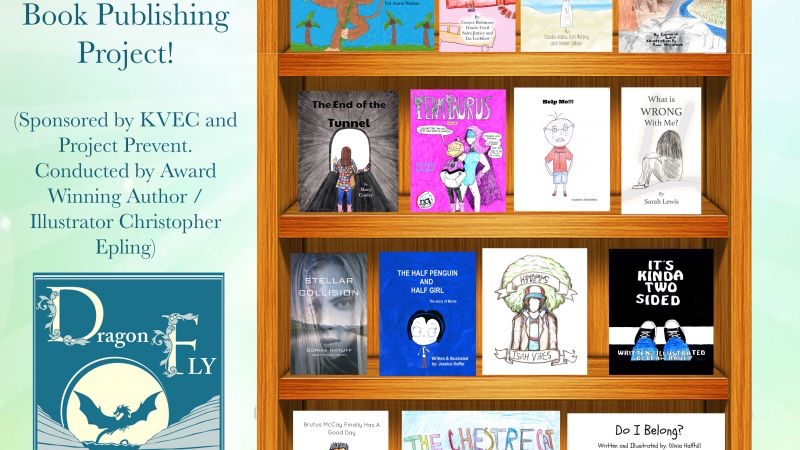 An element of the Appalachian Renaissance Initiative's (ARI, created through KVEC's Race to the Top Grant) mission is to identify, support and promote innovative practices in education and to also support and promote those educators and their students who are daring to be great.  Through Students Transforming Appalachia with Real World Solutions (S.T.A.R.S.), a component of KVEC's ARI, creative writing and the visual arts have been combined to give students the opportunity to excel in both areas.
The KVEC Art Workshop, created three years ago, focused on the challenges and potential pitfalls facing our students during the 2016-2017 school year.
Students in grades 4-12 in 17 schools from 12 different districts in the region participated in The Art Workshop conducted by Chris Epling, local award winning author/illustrator.  The workshop consisted of eight live instructional sessions, taught for one hour each Monday beginning in September.  Mr. Epling rotated the site for instruction each week among the schools taking part in the project and skyped with the other classrooms to present the lessons. Instruction began with how to format a story idea and continued with choosing a story and layout, how to "draw" characters through the setting, plot and rising action, penciling pictures on a page, creating a cover and logo, and sharing a trailer of the book.  Student choice was a prominent component of the process as each individual 'author' decided whether to write a picture book, chapter book or comic book.
Over 200 students completed the project and had their books bound.  Students who were interested applied for the entrepreneurial portion of the project, writing a proposal telling why they wanted to be an entrepreneurial author/illustrator.  Twenty-one students' books from nine different schools in the KVEC region were selected for publication.  The schools were Magoffin County High School, Paintsville High School, Valley Elementary in Pike Co., Pikeville Elementary, Pikeville High School, Johnson County Middle School, Breathitt County High School, Mullins Middle School in Pike Co. and Betsy Layne High School in Floyd Co.  The winners selected through the entrepreneurial application process received 25 copies of their published books to sell. Student authors promoted their books by following a self -designed marketing plan.
Magoffin County High School went beyond the project requirements to promote student entrepreneurship.  The art teacher assisted the students in creating sculptures to represent the theme of their books.  An open-house was scheduled for parents, family  and community members to come in for a 'book signing' by the student authors.
All workshop sessions were recorded and are now posted to the Art Workshop holler at theholler.org for individual or classroom viewing.