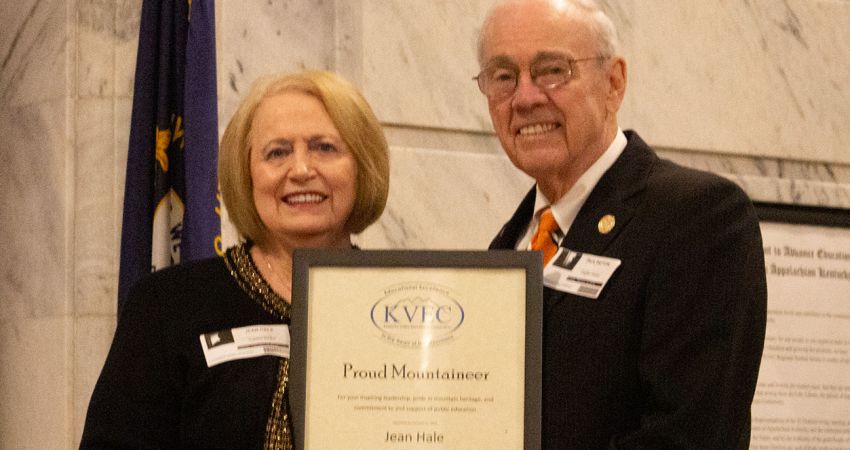 The Kentucky Valley Educational Cooperative (KVEC) honored four individuals in a Frankfort Capitol Rotunda ceremony on February 12 for their contributions to the region and state, their support of public education and for their pride of mountain heritage. The honorees presented the awards by Gov. Paul Patton were Jean Hale of Pike County, Dr. Van Breeding of Letcher County, Kentucky Associate Commissioner David Couch, formerly from Johnson County, and Joe Craft III, formerly from Perry County.
Over 400 students and educators from the 22-school district membership in KVEC celebrated innovation the classroom with displays on the mezzanine in the Frankfort Capitol showcasing the amazing work going on in eastern Kentucky K-12 classrooms to state legislators, constitutional officers, and the public.
KVEC superintendents and local legislators presented a "call-to-action" position paper to state leaders in the rotunda during a press conference urging them to support a set of research-based solutions and policy recommendations to better serve disadvantaged rural students and improve the regional economy. The paper can be read at: https://www.theholler.org/position-paper/
Ms. Jean R. Hale of Pikeville has served as Chairman, President and CEO of Community Trust Bancorp, Inc. since 2004. Under her leadership the Company has grown to $4.2 Billion in assets and she has been honored by American Banker magazine as one of the nation's "25 Most Powerful Women in Banking. Hale is very active in economic development and education initiatives. Currently, Hale is chairman of the Kentucky Economic Development and Finance Authority Board, a member of the Kentucky Economic Development Partnership Board and serves on the boards of SOAR, Commonwealth Seed Capital, ARH Foundation, University of Pikeville and the Community Financial Institutions Advisory Council for the Cleveland Federal Reserve Bank. She is a former Chairman of the Kentucky State Chamber of Commerce, former Director of Cincinnati Branch of the Federal Reserve Bank of Cleveland, and former Chair of the KCTCS Foundation. Through her leadership Community Trust has given significant sums of money for education in eastern KY.
David Couch, Associate Commissioner of the Kentucky Office of Education Technology, formerly from Johnson County with his family roots in Knott County, has helped make Kentucky K-12 the pioneer and national leader in nearly every aspect of education technology, including equity of access and opportunity for all KY students, over the past 26 years. For example, KY K-12 was the first state in the nation to deliver high-speed Internet connectivity in all its districts and schools in the 1990s. Then, building upon that, in 2015 became the first state in the nation to upgrade every school to fibered Internet speeds and reach the national Internet speed goals for every student at schools. Then building upon that has led to KY K-12 becoming "the" national leader in cloud-based computing of instructional and administrative systems when compared the K-12 and governmental organizations in any other state. KY K-12 also has the biggest and best K-12 student technology leadership program is the US. He has been recognized nationally for his work to advance KY K-12 education and is by far the longest acting state-level K-12 chief information officer/edtech leader in the US. He constantly boasts of his mountain heritage as he travels the state and nation.
Dr. Van Breeding, of Whitesburg, KY, has been a physician in eastern Kentucky for over 30 years. He is deserving of this honour for his community outreach to provide health services to those in need. He developed and implemented the idea to have school clinics in Letcher County and Jenkins Independent school system to provide basic medical care to the students and staff in the schools when they otherwise may go without the needed medical care. Since the implementation in Letcher County, Mountain Comprehensive Health Corporation (MCHC) has expanded and added school clinics into additional southeastern Kentucky districts such as Perry, Owsley and the Pineville Independent schools. Dr. Breeding has offered and worked with the Southeast Kentucky Community and Technical College as well as Hazard Community and Technical Colleges on developing campus health clinics there as well.
Joe Craft III, originally from Hazard, is the President and CEO of Alliance Coal, the third largest coal producer in the nation and the largest coal producer in Kentucky. Joe is the immediate past Chairman of the Kentucky Chamber of Commerce, and he was recently honoured as an inductee to the Kentucky Entrepreneur Hall of Fame. His wife, Kelly, is the current United States Ambassador to Canada. Joe has been a generous supporter of Perry County projects including the Hazard School District and the Hazard ARH Medical Center. He is a dedicated supporter of education in the Commonwealth who has given generously to the University of Kentucky, Alice Lloyd College, the University of Pikeville, and Morehead State University where he is a co-founder of the Craft Academy for Excellence in Science and Mathematics, a dual-credit residential high school for academically exceptional Kentucky students.