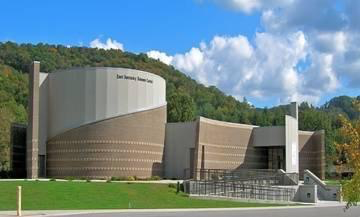 Where can students with complex needs go for a day that is both fun and educational, is within driving distance of regional schools, and is flexible enough to provide accommodations as needed for the children?  The East Kentucky Science Center and Varia Planetarium on the campus of Big Sandy Community and Technical College in Prestonsburg meets all of the above criteria and more!
In October, the Special Education Department from KVEC will host the first fun and educational day for students with special needs at the East Kentucky Science Center.  Cheryl Mathis, Low Incidence Coordinator, and Stephanie Kidd, Achievement Gap Specialist, recently met with staff at the center to begin preliminary planning for the event.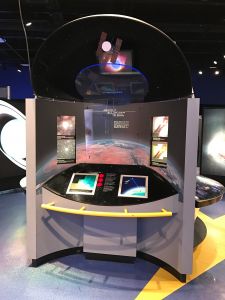 The East Kentucky Science Center and Varia Planetarium serves as a hub of STEM (Science, Technology, Engineering and Mathematics) education in eastern Kentucky.  The facility offers an interactive exhibit hall, planetarium and popular laser light shows. The Science Center features a 40-foot dome and the Spitz Sci-Dome projection system, one of only two dozen in the world, and the Varia Planetarium has the state's only GOTO Star Projector, which brings space exploration to life for visitors ( https://bigsandy.kctcs.edu/EKSC/ ).
The students will participate in a classroom activity called 'bubble-ology', where they will explore bubbles by holding them in their hands, try to roll a mini car through a bubble, watch magic floating bubbles that don't sink, and more.  A movie will be shown called "The Enchanted Reef, which tells about one of the Earths' oceans ("Kaluoka'hina, the enchanted reef), whose magic protects it against humans finding it.  The group will also view a spectacular laser light show in the Planetarium and have "hands-on" time with the block display (which includes legos, wood blocks, etc.) in the exhibit hall.  Lunch will be served on-site.
Curriculum for the activities will be available to teachers before the visit, including lesson plans to help prepare students for the event. Content standards addressed will also be highlighted.
Special education units from the following districts will be invited to participate:  Floyd, Pike, Pikeville Independent, Leslie, Perry, Hazard Independent, Magoffin, Breathitt, Jackson Independent, Lee, Owsley and Wolfe.  Registration information will be posted in late July, with two to three days scheduled at the site to provide adequate space for all students who wish to participate.