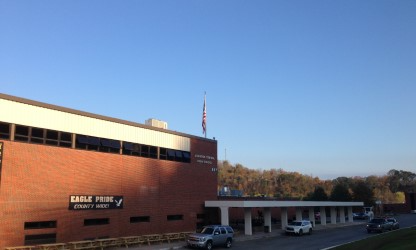 How does a district ensure that students are ready to enter college and/or the workforce prepared?  After intense planning and research in the early 2000s, educators in Johnson County decided to do away with the diploma system they had in place, which required students to choose either the college prep or vocational tract of classes.  The focus was changed to the career pathways model with students earning one of two types of diplomas:  standard or honors (an honors diploma is awarded to those students who take Advanced Placement or dual credit courses for college credit).
The career pathway model requires every student entering the 9th grade to declare the pathway they are interested in pursuing.  For those who are undecided about a profession, this begins a process of elimination of careers that they decide are not for them.  Noel Crum, in-coming principal for the 2017-18 school year, says students are "encouraged to change the pathway if they are unhappy with the first choice".  Many switch pathways up to their junior year.  Seniors may alter their choices if they can finish the coursework in one year.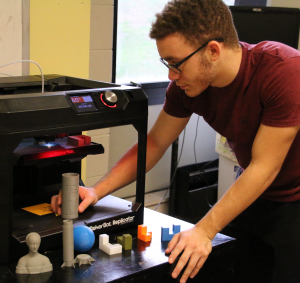 Students are required to take four elective courses relating to their career major.  Many choose to "double major".  Required pathway classes are the same whether the student decides to earn a standard or an honors diploma.  Mr. Crum stated that "the beauty of career pathways is that there are multiple exit points, but career classes are important no matter what the exit point is for each student".  For example, Mr. Crum explained that each year up to 16 students are enrolled in the CNA course of the nursing pathway.  In this program, all students will earn a CNA certificate.  From this group, some will choose to go to college to pursue a bachelor's degree in nursing while others will get a two year LPN degree.  There will also be graduating students who utilize the CNA certificate by beginning work immediately in a nursing home or hospital".
Johnson Central High School now offers 28 career pathways, which is among the highest number offered in the state of Kentucky.  Included in the student choices are:  biomedical science, engineering, informational technology, carpentry, nursing/health science, business, culinary arts, early childhood education, telemedia and aerospace.  The newest pathway, aerospace, has been added through the Appalachian Technology Institute, which is a component of KVEC's Race to the Top grant.  Some of the pathways branch into smaller units of study.
Expanding the number of career pathways led to the creation of Johnson Central Career and Technical Center, which is housed inside the high school.  The center was one of 15 schools in the state to recently be awarded a Work Ready Skills Initiative Grant.  Funding through the approximately $1.7 million grant will allow for the expansion of workshops, such as the carpentry lab, and will be used to purchase needed equipment (i.e., machines for welding).  The carpentry unit has received grant funding from KVEC for students to build a tiny house, which will be sold at public auction after completion next spring.
Johnson Central High School students are enrolled in seven classes each semester.  This provides the opportunity for them to take two elective courses each school year.  Work-base learning experience is emphasized in the majors during the senior year, with students leaving the school site to work at related jobs during the school day.
The school has been visited by a member of the Work Force Development Cabinet who is very interested in their career pathway model.  The cabinet member has expressed the hope that in the future legislation will be modified to encourage other schools to utilize career pathways in similar models.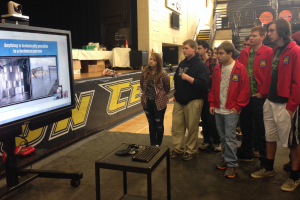 Mr. Crum emphasized that "our goal is to make sure every student knows what they want to do when they walk across the stage at graduation, thus saving time and money in college".