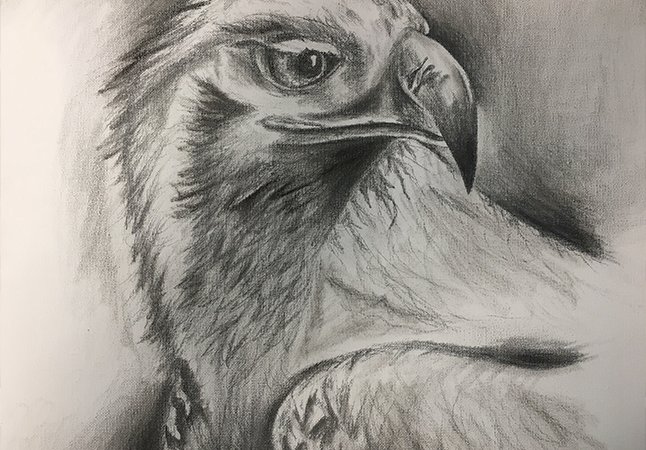 Magoffin County teacher, Andrea Parsons, was inspired to go into teaching by her high school art teacher, Connie Cecil. Now she is inspiring her students to tell their stories through art. The student narratives have changed Andrea while providing a learning and therapeutic emotional outlet for her students.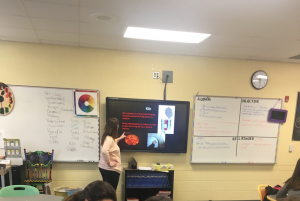 Andrea was approached by graphic artist, Christopher Epling to participate in a "transmedia fellowship" through a program offered by the Kentucky Valley Educational Cooperative.  Transmedia storytelling (also known as transmedia narrative or multiplatform storytelling) is the technique of telling a single story or story experience across multiple platforms and formats using current digital technologies. The focus this year has been on digital storytelling through video or graphic arts.
Christopher Epling created an online course on the KVEC digital platform, The Holler, so the classes participating were able to produce a narrative artwork using any medium the students chose. There were videos and assignments for four sections of the class. The assignments were to help them choose their story and art process.
Andrea had 20 of her students to elect to participate.  "I had many difficult and emotional conversations with students about possible topics," Andrea explains.  "Two students, in particular, were trying to decide the best way to illustrate the loss of a parent. We cried many tears working through those pieces. I had approximately twenty students complete the class, and I am extremely proud of them. Two of my students sold their art at the FIRE Summit in April.
"This project opened my eyes to be even responsive to the emotional expressions of my students. I believe I have always been a compassionate person, however, I feel I am even more so now. I am more committed than ever to build a stronger relationship with my students."
 Andrea states that after meeting her high school art teacher in 1989, she knew teaching art would be her career choice. Andrea attended Morehead State University, declared her major, and never looked back.
"I am so very thankful for the opportunity to work with students," Andrea adds.  "After twenty-two years of teaching, I can honestly say my students have taught me way more than I could ever teach them. It is exhausting most days, but if I could go back, I would not change anything about my career choice."
Andrea received an Innovation Grant from the Kentucky Valley Educational Cooperative for the project. As part of their project funded through the KVEC "Race to the Top" federal funding by the U.S. Department of Education, they and over 100 instructors who presented at the Forging Innovation in Rural Education (FIRE) Summit, a multi-district K-12 educational professional learning event April 11 in Pikeville, KY.  More than 14,000 viewers, from several countries and 42 states, tuned in to the live stream provided by KVEC's digital platform the Holler to watch the presentations.
Andrea and the other presentations can be found on the www.theholler.org.  You can also view an interview conducted with her by the FIRE Cast team.