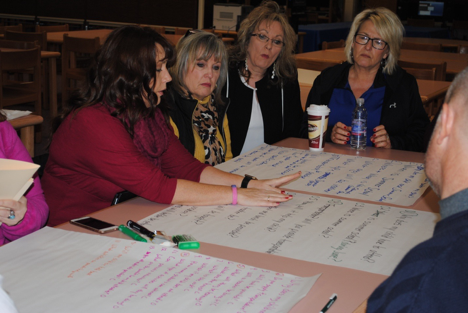 Participants evaluate questions generated using the Question Formulation Technique (QFT) at a recent workshop conducted through the Appalachian Renaissance Initiative. The session, held at Pike Central High School, focused on how to actively engage families and caregivers in supporting a student in his/her educational journey.
As a workshop participant or even a facilitator, how do you evaluate the value of the session if at the end of the day there are more questions posed than answers given? Has it been a waste of time for all involved?
In February, Family Resource Youth Services Center staff, school administrators and parents gathered at Pike County Central High School to address this issue by using a technique designed to ask questions with the focus on improving education. The Question Formulation Technique (QFT) strategy is a practical tool that assists people in getting to the core of a situation or challenge by asking questions. It was designed and perfected by authors Dan Rothstein and Luz Santana at The Right Question Institute.
"QFT gave me a preferable perspective on how to approach my families by giving them a voice and letting them know their voice is important to me and our school", noted Brandi Wolford, Family Resource Center Director at Phelps Elementary in Pike County.
This workshop is part of the work being led by the Kentucky Valley Educational Cooperative's Appalachian Renaissance Initiative (ARI), a Race to the Top District Grant funded by the US Department of Education in 2013. It is a part of the New FACES in Education series to enhance family and community engagement in our rural schools.
"Our educators and schools are only one part of the equation when ensuring our children are successful", says Jim Tackett, ARI Readiness Lead and Executive Director of Forward in the Fifth. "We must partner with and equip our families with tools that will help us all reach the goal of student self-sufficiency in the real world. QFT is a tremendous tool to empower families and caregivers with ownership so they can support, monitor and advocate throughout their child's educational journey."
The New FACES in Education series provides critical information, skill-building, and networking with a diverse group of individuals to understand the varied dynamics in today's educational system. These areas include culture, expectations, policies, programming and communication. Educators, families and community partners have a greater chance of positively impacting student success when a shared understanding and supports are in place to benefit the child.
There are many uses of QFT as is evidenced by its application within the classroom for instruction, patient-healthcare provider education, and for long-range program planning. The tool allows individuals to personalize solutions to a particular challenge in simple and practical ways
Our world often values the answer more than the question, but what happens if we are asking the wrong question? For many of our families, they feel on the outside of education looking in. They may not know what questions to ask or are frustrated from past experiences themselves. This tool affirms that questions can and should be asked in a productive way that will build on student learning and progress, but it allows that individual to identify the questions rather than be tied to a pre-generated list.
" I think people are more inclined to buy-into a solution if they feel they were a part in determining what it should be", stated David Hensley, Harlan County Innovation Coordinator. "In other words, ask me what I think, don't tell me what you think. It may take a little time, but if the outcome is achieved, it is worth it."
The professional learning session was facilitated by Jim Tackett and Kimberly Sergent, ARI QFT cadre lead with the Kentucky Valley Educational Cooperative.
If you would like more information about the New FACES in Education project or QFT being used in our rural schools and communities, contact Jim Tackett at jtackett@centertech.com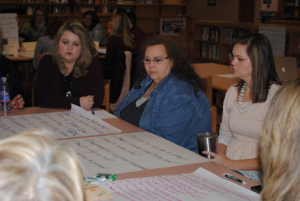 The New FACES in Education initiative is designed to assist families with better understanding today's educational system and how they can better support, monitor and advocate for their child. School staff prioritize key questions for which families may need answers in order to assist in student success during a recent workshop at Pike County Central.