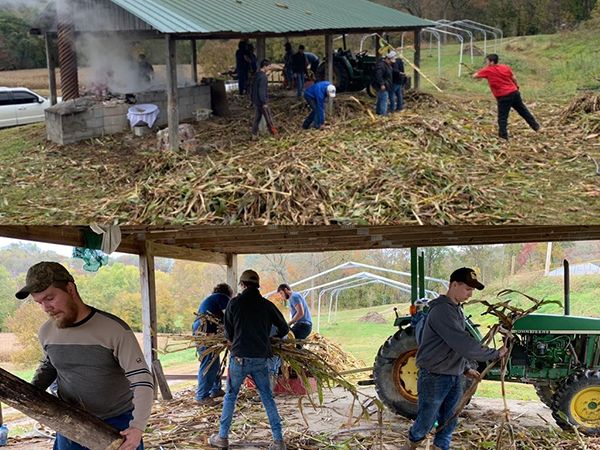 Owsley County High School students are leading the effort in their community to highlight the positive assets of their local area and re-brand their county. Working with several groups in the county, the students had input on the newly created logo which the school district, the county and the city of Booneville will jointly utilize and are developing other marketing materials to re-brand Owsley County.
They identified the challenge, "Our community needs to be re-branded because we are generally pictured negatively as something we are not by people from outside this area. We want to be the ones to tell our story. We do not want people telling our story who do not truly know our story."
Owsley senior Abby Oliver explains, "Our strategy consists of using technology and social media outlets such as podcasts, blogs, and videos to highlight our strengths and to bridge the gap between what Owsley County and Booneville are and what we imagine our future to be." Abby, the president of the local Future Farmers of America (FFA) chapter and the school's student senator adds, "We want to represent the important parts of our heritage and efficiently share that information with everyone." Abby explains that they are using on-line newsletters to keep the community informed.
Junior Keely Begley says," We wish in the long term to create local pride in our community, create an image that will attract investors and tourists, and help build economic opportunities in our county. We intend to use our geographic location and Gigabite community designation to our advantage as well."
Junior Shelby Campbells states, "We are fortunate to have fantastic technology at our disposal in the school district to help us with the project. We have a "Z Space Lab" with augmented reality, access to virtual reality technology, 1:1 Chrome Books and Google apps to name a few."
Student Amelia Murray, a junior, also worked with business leaders in the county as part of a focus group to add their ideas with the strategic plan.
In addition to the business community, which includes Jackson Energy and PRTC as a major helper, the other partners who are a part of the planning and idea generation are the Owsley County Action Team, the Booneville City Council, and the county judge-executive and fiscal court.
Media Specialist and instructor Tina Bobrowski is lending her Journalism Class to help with the effort. "We have as a small school and community, so we are all pitching in to help. I am proud of the work of our talented students." Tina in her media specialist role also helps with the district's social media. In her role as a Spanish teacher and journalism/yearbook teacher her students are bringing the school's yearbook back and producing an informative article and public service announcements about the community's portrait of a graduate.
Regarding the teamwork of the school, county and city, Tim Bobrowski, superintendent of Owsley County Schools, states, "We believe we are the first school district to lead such an ambitious effort to unite our school's strategic planning with that of the city and county and to adopt the same logo for use by a school district and city and county government."
Fellow faculty member and sponsor Alan Taylor says, "I am hopeful about our community because of the work I see being done by our students. Their work will promote community development and tourism and be a force in moving our economy forward."
The school district has a strong agriculture program and a very active FFA chapter along with a strong farm to table program. The students work in a school/community garden and the produce is used in the cafeteria. Several students participated in sorghum making last month. "Agriculture, with its tie to tourism, is another tool in moving our economy forward – and our students are being involved," Taylor states.
"Our kids are our future," says Owsley School District Superintendent Dr. Tim Bobrowski. "Our students are demonstrating they are leaders and are working to develop a rural "edu-conomy" tying educational assets to the community and economic development."
The Owsley students and district obtained the community grant funding in a competitive grant process held by the Kentucky Valley Educational Cooperative (KVEC). Jackson Independent, Harlan County Schools, and Ashland Independent were the other awardees.
Follow the link to read the full story and look for future stories from The Holler and KyForward.
Click here to view the full story