"Don't cry over spilt milk!" Well, we've all heard that expression, but what if you really split milk all over your clothes? Who wants to go around smelling like soured milk all day? That would make you really want to cry. Here at our school, we never shed a tear! We just march down to the Family Resource Center and our problem is solved. No tears! This is just one example of what our center does for our students here at Phelps Elementary.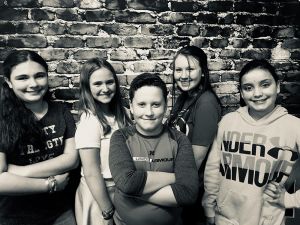 Hi, my name is Falyn Goslin and I am a sixth grader at Phelps Elementary. I am also part of the PES Fireshare TransMedia Production Crew. Whether it's giving out free school supplies, basic necessities like food and snacks, or giving away Christmas presents to ALL our students, this short documentary was created in hopes to share with everyone the important message of how our Family Resource Center touches the lives of ALL of our students. This public service announcement is to bring attention to our Family Resource Center whose Coordinator, Brandi Wolford, takes care of ALL of our student needs. So see, no split milk here! Just happy kids!
  Thanks to the Transmedia Production course I took online through theholler.org, I was able to learn how to edit and make my own videos using an iPhone and iMovie. I plan to continue learning and creating short documentaries, capturing memories that will last a lifetime. Hope you enjoy the video!