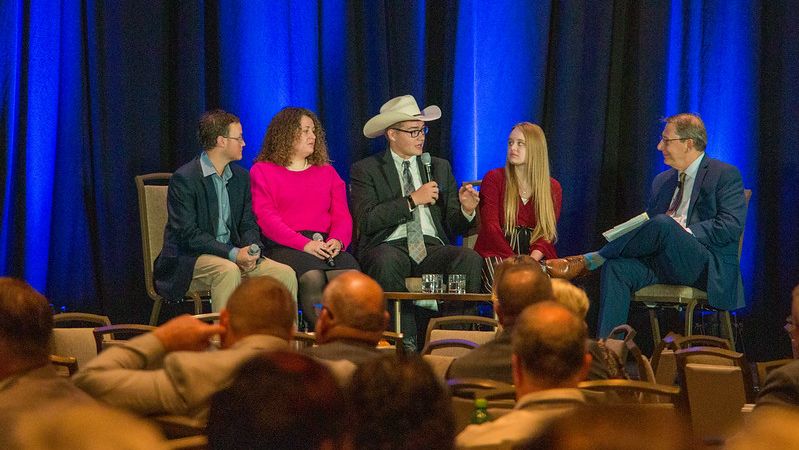 Kentucky K-12 educational leaders increased their voice and power of collaboration by establishing a state chapter and joining the National Rural Education Association (NREA) last week in Louisville.
For most rural school districts in the nation, collaboration is not a choice, it is a necessity. Collaboration elevates the voice of rural districts and empowers isolated educators, administrators, and students. The Kentucky Rural Education Association was officially launched on Thursday, October 24th.
Owen County Superintendent Robert Stafford, the guiding force for the chapter and its newly selected chairperson states, "The Association offers Kentucky educators, and other interested organizations, the opportunity to discuss and advocate for our rural schools and communities. There is state-wide interest in addressing issues that impact our rural schools and finding ways to provide opportunities for all our students."
The chapter was formed during the Battelle for Kids and the National Rural Education Association (NREA) jointly hosted the 2019 National Forum to Advance Rural Education and 111th NREA Convention and Research Symposium in Louisville on October 24-26. 
At this event, a diverse community of national experts, K–12 and higher education practitioners, leading researchers, policymakers, and philanthropic leaders came together to learn, collaborate, and lead 21st-century learning in rural schools. Organizers said by leading together, they can help communities innovate and leverage local assets to create meaningful learning experiences for rural students.
The NREA (National Rural Education Association) was originally founded as the Department of Rural Education in 1907. It is the oldest established national organization of its kind in the United States. Through the years it has evolved as a strong and respected organization of rural school administrators, teachers, board members, regional service agency personnel, researchers, business and industry representatives, and others interested in maintaining the vitality of rural school systems across the country.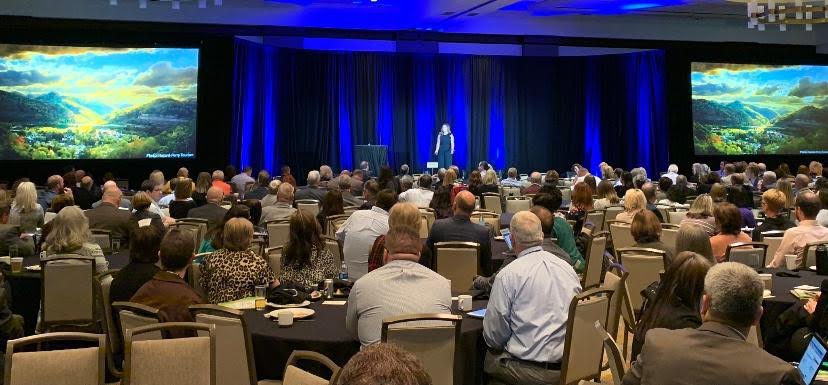 Students from Kentucky were prominent during the conference showcasing their innovative work with displays and being a part of panels.   Four students from rural eastern Kentucky shared their stories and hopes about what makes a good school, where they want to go, and why it matters to them in a panel moderated by Brad Mitchell, Ph.D. Senior Strategist, Battelle for Kids.
Taylor Williams, a University of Kentucky Pharmacy student and former Hazard High School graduate, kicked off the "SPARK 21" discussion focusing on 21st Century learning.  Johnson County "Juul Breaker" students shared their anti-vaping work and advocacy.  Other eastern Kentucky school districts represented were Ashland Independent, Harlan, Knott, Owsley, Pike County, and Pikeville Independent. The Kentucky Valley Educational Cooperative (KVEC), a co-sponsor of the event, hosted a FIRE Reception in which dozens of mountain students demonstrated their innovative work.
In another panel titled "Tapping into Student Voice to Better Understand College Readiness" the panelists launched a conversation among rural educators, leaders, and policymakers about how to engage and amplify student voice to better understand the college-readiness challenges faced by rural students and the implications for rural education. The panelists were Rachel Belin Director of Student Voice Team, Prichard Committee of Academic Excellence and Lu Young the Executive Director, University of Kentucky Center for Next Generation Leadership.
Kentucky Valley Educational Cooperative (KVEC) Executive Director Jeff Hawkins and Associate Director Dessie Bowling presented the consortia's 23 school district position paper "A Rural Region's 'Way Forward' Working Together," solutions which can be put in place to overcome challenges faced by many rural communities.
Jennifer Stafford of the Kentucky Department of Education presented on "Effects of Meeting College Readiness Indicators on First-Year College Credit Attainment."
Other Kentucky presenters included KVEC's Robert Brown Professional Learning Lead for Micro-Credential Policy and Jennifer Carroll Professional Learning Lead who discussed "Micro-Credentials: A Competency-Based Professional Learning Design for Rural Educators" and explored how rural districts in Kentucky are using micro-credentials as part of competency-based professional learning systems.
The NREA is housed at the University of Tennessee in Chattanooga, Tennessee and is led by Dr. Allen Pratt.