This past Spring a team from KVEC (Kentucky Valley Educational Cooperative) had the opportunity to visit The Ron Clark Academy in Atlanta. The Academy has received both national and international recognition for its success in educating students with excitement, creativity and high expectations.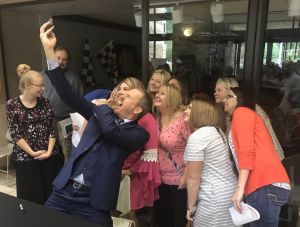 Upon returning the team debrided about the visit and explored options on how to share that learning with educators in eastern Kentucky.
The KVEC team reached out to Ron Clark and was able to arrange for him to visit the region and share the message of the Ron Clark Academy with hundreds of educators from across the region.
"We want to show educators that school can be fun, be exciting and be passionate and that you can truly make a difference in the lives of students." -Ron Clark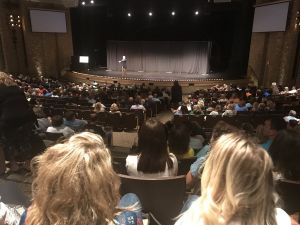 KVEC Renaissance Academy hosted America's Teacher Ron Clark at Prestonsburg Mountain Arts Center for over 700 eastern Kentucky educators. Ron is a teacher, author (The Essential 55 & Move Your Bus) – subject of The Ron Clark Story film and also founder of the Ron Clark Academy in Atlanta, Georgia. Mr. Clark made his way to eastern Kentucky this week to inspire and excite educators about this upcoming school year!  
Ron spoke to eastern Kentucky educators about how to foster an atmosphere where students, parents, staff and community members work together to create a family environment for our learners. To teach in ways that promote creativity, innovation, wonder, joy and a passion for learning while demanding academic rigor with high expectations for every student!