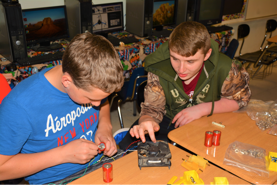 What better way is there to find solutions to real-world problems than to present them to students for research and the creation of innovative solutions?  A collaborative effort between the Kentucky Valley Education Cooperative (KVEC), the University of Louisville School of Engineering and school districts in the KVEC region recently provided students with the opportunity to participate in the Engineering Week Challenge.
Students from Wallins Elementary School in Harlan County competed in the event and took 2nd place overall at the Middle School Level.  Students were given several global issues and were asked to develop solution plans and build prototypes to address a selected problem. Mrs. Amy Cottrell's seventh grade class was presented the challenge and began brainstorming ways to engineer solutions to global problems.  The students chose to address the need for electricity in rural India focusing on the use of solar power.  A delivery prototype using balloon power and global wind paths to deliver solar panels, batteries and installation materials was developed.  A design process plan was required with investigation into the problem, possible causes, solutions and constraints.  The students from Wallins Elementary collaborated with Belfry High School physics students and teacher Dr. Haridas Chandran, KCTCS instructor Ronnie Daniels, Mrs. Virginia Rice and an engineering student from the J.B. Speed School of Engineering at the University of Louisville in the development of their working prototype.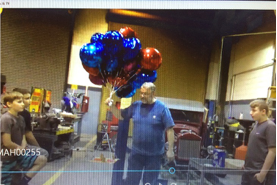 Teacher Amy Cottrell stated, "The students are already talking about what they can do next year" in regard to the engineering challenge participation. Seventh grade student Breydy Daniels expressed that "the thing I most enjoyed was getting to experiment with our prototypes, figuring out what problems came up, changing our ideas, and then putting our ideas into action.  It was a learning experience, but also fun and made me think outside the box because we were limited as to what we could buy, how much we spent, and what we ended up using.  I felt a great sense of accomplishment and was proud for our entire team and our school."
Riley Murphy declared, "Prior to my school's involvement in the middle school engineering week challenge, I was unaware of India's significant lack of energy providing resources.  Through our research and implementation of a potential solution to this problem, I learned how valuable a GPS can be in the tracking and insurance of delivery of much needed resources to a deprived region."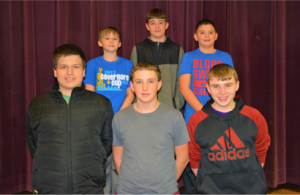 Student engineers on the winning team are Lucas Epperson, Breydy Daniels, Luke Cottrell, Riley Murphy, Randall Blanton and Cameron Williams.
Author:  David J. Hensley, IC
District:  Harlan County Schools