Kentucky Valley Educational Cooperative (KVEC) sponsored its Second Annual Drone Race in which middle and high school teams built drones from supplied kits to come race at the Knott County Sportsplex. Twenty schools submitted applications to participate in this project-based learning opportunity designed to prepare students for careers in a growing job market.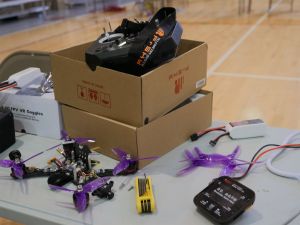 Hundreds of students and educators on hand to see 20+ teams of student unmanned flight engineers launch future ready careers. Schools could have multiple students race separately. To make it fair on each team or student to qualify for the tournament competitors that raced had to be able to complete one full lap around the drone track. Once qualified the students then began to race in pairs of two, winner moving on to the next round.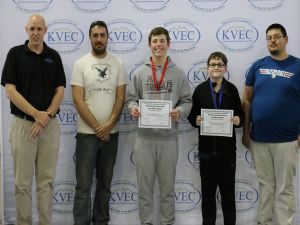 Students who Qualified
Cade Parlato – Ashland – 1st Place Middle School
Eric Billups – Ashland – 2nd Place Middle School
Seth Hatfield – Belfry – 1st Place High School
Grant Hamiliton – Breathitt – 2nd Place High School
Austin Stafford – Belfry – 3rd Place High School
Franklin Combs – Knott – 3rd Place High School
Byron Hammond – Betsey Lane
Participating students figured out how to build a drone through trial and error, videos provided by theHoller and also through drone build days for students at KVEC. ATI director, Dr. Paul Green began delivered the drone kits in mid-October and students had until March 19th to finish the building preparations to be able to race. Each school listed below will also showcase their work at the FIRE (Forging Innovation in Rural Education) Summit in Pikeville, KY on April 11, 2018.
The 20 schools that participated – Lawerence County HS, Johnson County HS, Middlesboro HS, Hazard Ind. MS, Hazard Ind. HS, Magoffin Co. HS,  Paintsville Ind. HS, Knott Co. HS, Belfry HS, Sheldon Clark HS, Ashland Ind. HS, Ashland Ind. MS, Betsy Layne HS, Owsley Co. HS, Breathitt Co. HS,  South Floyd MS, Fleming-Neon MS, Wolfe County HS, Clinton Co. MS, and Jackson Ind. HS.