The Kentucky Valley Educational Cooperative (KVEC) FIRECAST highlights creative and determined educators building their classrooms into a one of a kind experience. Our goal is to showcase classroom innovations and inspire others to help change the narrative of Eastern Kentucky.
Allan Elementary Kentucky's Student Technology Leadership Program (STLP) State Champions, for grades 6-8 division. Got the opportunity to travel to Chicago June 24-27th to present "I Can Perform My Way" at the International Society for Technology in Education (ISTE). This project was funded through the KVEC "Race to the Top" federal funding by the U.S. Department of Education.
ISTE is a community of global educators who are using technology to transform teaching and accelerate innovation. The ISTE Conference & Expo attracts 15,000+ attendees from around the world, the majority of whom are leaders and key influencers for education technology.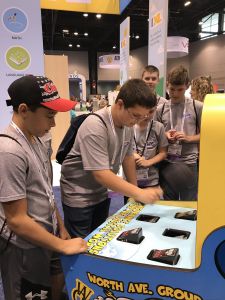 The STLP team at Allen Elementary witnessed a great number of students find excitement and accomplishment through performing, but some students, due to a mental or physical disability, may never get this same opportunity.  
"If we continually speak of total inclusion for every student then we need to see it come to fruition, and we truly believe we have found a way for this to be a reality." -Charles Michael Bell
Allen Elementary School's STLP students began the process of developing assistive technological devices to ensure that all students at Allen Elementary would be able to participate in a school-wide performance using their own creativity by "Performing in their own way!"
Check out another FIRECAST production featuring Allen Elementary. If you like robots or performing arts then you are in for a good time! FIRECAST – Performing Arts and STLP Program
To learn more about FIRECAST and how to get your school involved, or just to watch previous episodes visit www.theholler.org/firecast.