This year's Building It Forward Tiny House online Auction successfully concluded at one minute till midnight on July 8th.
More than 4,000 folks from thirty-one states and Canada visited the online auction and 376 visitors placed a bid on at least one of the houses.
All nine student designed and constructed Tiny Houses sold for more than the base grant provided to the schools by the Kentucky Valley Educational Cooperative. Proceeds from the auction will roll back into the project to ensure sustainability and opportunity for each school to "Build it Forward" in the coming year.
This project may be 'tiny' but the reach is expanding.
Buyers for the nine Tiny Houses were from multiple states. Arrangements are currently underway for transport and several buyers will track the Tiny Houses as they move across the country to their new home.
The goal of the Building It Forward Tiny House Project is to make learning engaging, practical and applicable to post-secondary success and become self-sustaining. Research shows that students who participate in hands-on learning remember the material better, feel a sense of accomplishment when the task is completed and are able to transfer that experience more fluidly to other learning situations.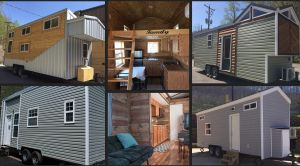 In the case of Tiny Houses, the saying "If you build it, they will come" is true and the impact of the project is evident in the quality of the 9 Tiny Houses built by students from:
Breathitt County Area Technology Center/Jackson Independent
Floyd County Area Technology Center
Johnson County High School CTE
Knott County Area Technology Center
Lee County Area Technology Center/Owsley County/Wolfe County
Leslie County Area Technology Center
Letcher County Area Technology Center/Jenkins Independent
Phelps High School in Pike County
Now that this year's auctions have concluded, we would like to thank everyone who came out to tour the homes, participated in the online auctions or contributed time and expertise to the local builds led by students.
If you have questions or would like additional information, please contact us at your convenience.