Ashland Middle School needs your help!  
At the end of February, Ashland Middle School was named the Kentucky winner in the National Samsung Solve for Tomorrow Competition!  On March 1st it was announced that they are now a National Top 10 Finalist.  As a Finalist, they were awarded $50,000 and are now in a social media competition to be selected as a Top 3 finalist with a $150,000 award.
Please visit http://www.samsung.com/us/solvefortomorrow/ and vote for Ashland Middle School. When you click to vote it will redirect your browser to Facebook or will bring a new window up. To provide extra votes you can post the link on Facebook and Twitter.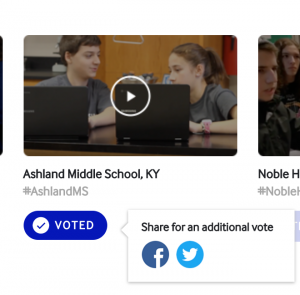 Ashland Middle School was told that historically, schools from smaller communities don't fare well in the mass media part of the competition. As of right now, Ashland Middle School is leading the competition.  You can vote once a day from now until April 2nd.