Casey's Math classroom has always used the "Math Journal". Research shows that students learn and retain information longer when they write their notes by hand. In order to prepare students for the next level of mathematical learning, she wants to ensure that they are retaining the information.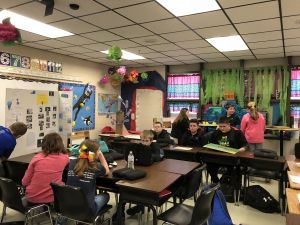 This year, Casey plans to introduce brain-based learning by using doodle notes. She has created a template for note-taking for each mathematical skill using the iPad Pro and apps such as Drawing Desk and PowerPoint. The use of the Apple Pencil to hand draw various visual cues that will help students remember the information. She prints the template for the students so that they are able to write, color, doodle, and draw on their paper while they are learning specific mathematical skills which in turn will stimulate more neural pathways than just traditional note-taking strategies. This will also activate the left and right side of the brain. The communication between both sides of the brain will enable the students to focus, concentrate, be creative, and most of all retain the information they have learned.
Being a 1-to-1 classroom she will be able to digitally share the doodle note on Google Classroom for the students to view at any time on their Chromebook. At the end of the year, Casey plans to give students a survey on Google forms to gather information on how they feel towards completing traditional notes compared to brain-based learning with doodle notes.
Results from this study will be communicated at the Spring FireSummit April 11th. Casey has been posting updates from her classroom within the Promising Practices Holler as well as the Math Holler.
It is my hope that the work that I am doing in my classroom will be shared globally so that other teachers may find inspiration. -Casey Salyers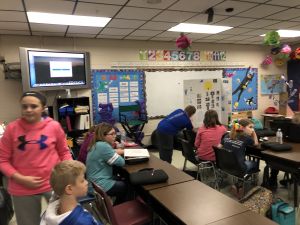 Casey's project was funded through the KVEC "Race to the Top" federal funding by the U.S. Department of Education. She was one of over 100 instructors who presented at the Forging Innovation in Rural Education (FIRE) Summit, a multi-district K-12 educational professional learning event October 25 in Pikeville, KY.  More than 17,000 viewers, from 15 countries and 42 states, tuned in to the live stream provided by KVEC's digital platform the Holler.