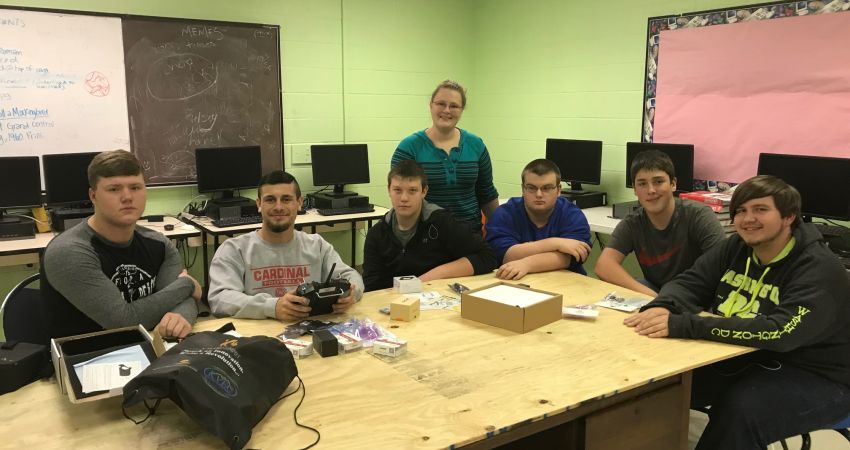 Christin Roberson said she felt like Santa Claus as she watched her two aerospace classes excitedly open the drone kits on Friday, November 3 at Sheldon Clark High School. The students will conduct research in order to learn how to put together the drones and practice flying in preparation for the spring 2018 drone race sponsored by the Kentucky Valley Educational Cooperative (KVEC).
"I chose to come teach in Eastern Kentucky for the past three years because I believe that our students need STEM skills to create our future economy stated the Kentucky native. "I believe this future economy of which aerospace is a strong component is one that will take part in the greatest economic turnaround this country has ever seen."
"I want Aerospace to be a solid program that students can gain skills they use in the future. Our school is aggressively working to make our coursework a career pathway," Christin added.
Trained as a biology and integrated science instructor, Christin took over the aerospace teaching that fellow Teach for America instructor Colby Kirk handled last year. She has 20 students in the fast-growing field. Kentucky is the second largest aerospace product exporter in the nation.
She has attended professional learning opportunities provided by KVEC through its Appalachian Technology Initiative. Twenty-one schools have been provided drone kits by KVEC. A part of the learning in the project is the construction of the drones and then learning to fly them.
"After college (2010) the economy wasn't great so I took seasonal positions at nature centers and camps. I fell in love with environmental science and environmental education," Christin added. "When my was diagnosed with breast cancer it was time to come home. I moved to nearby London, Kentucky and got a little taste of Eastern KY. I lived in London for 3 years and also worked for University of Kentucky College of Agriculture 4-H Youth Development program. I got to go into schools for programming–and knew that the classroom is where I belonged.
"Because I wasn't a traditionally trained teacher I chose to do an alternate certification program through Teach for America. I've been living in Inez for the last 3 years. I love Eastern Kentucky and I plan to stay for a good long while."
Teach For America is a nonprofit organization whose stated mission is to "enlist, develop, and mobilize as many as possible of our nation's most promising future leaders to grow and strengthen the movement for educational equity and excellence."
"Part of the fun in teaching aerospace is that I am learning with the students," Christin explained.
Cover Photo – Sheldon Clark High School instructor Christin Roberson with one of her two aerospace student groups.