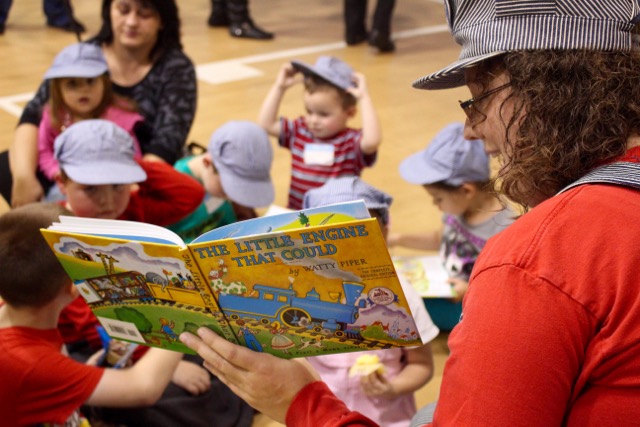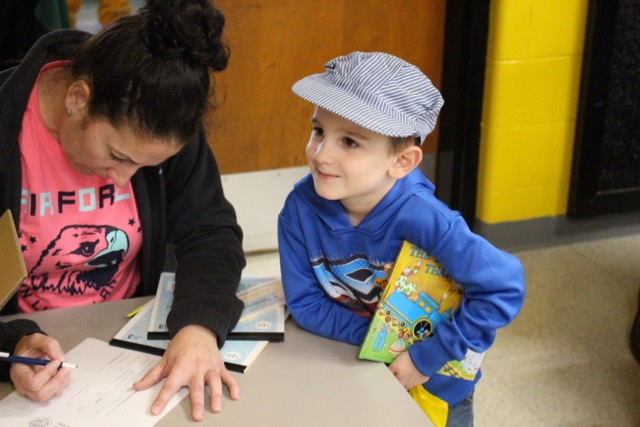 Hundreds of kids under five years old in Bell, Floyd, and Lee Counties already know the excitement of getting a package in the mail, addressed to them, with an age appropriate book from Dolly Parton herself. Hopefully that book arrival and their enthusiasm brings the whole house together for story time. This is the vision Dolly had for her, now international, Imagination Library (IL) program, and certainly the reason Kentucky Valley Educational Cooperative (KVEC) is bringing IL to all of their 15 eastern Kentucky counties.
KVEC and Collaborative Center for Literacy Development (CCLD) partnered late last year to bring books to children under 5 years old, preparing them to enter classrooms across the region.  Middlesboro Elementary hosted the initial launch in the southern tip of KVEC's service area in October 2015, incorporating costumes, face painting, and fall harvest theme. Over a hundred families were served dinner and had access to nearly two dozen community service providers set up during the event.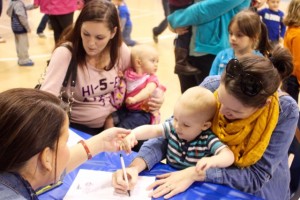 The next stops on Dolly's train brought books to hundreds more kids in Lee and Floyd Counties, partnering with local Born Learning Academies, and helping to celebrate Christmas with Santa visiting three locations.  East Kentucky Broadcasting and WYMT-TV even showed up to spotlight the huge turnout. "Learning really starts before Kindergarten, it starts at birth so we really want people to have access to as much, as many tools as possible. So learning is easier and more accessible and not something that happens if you're lucky to have books  in your home" Willa Johnson with KVEC told WYMT.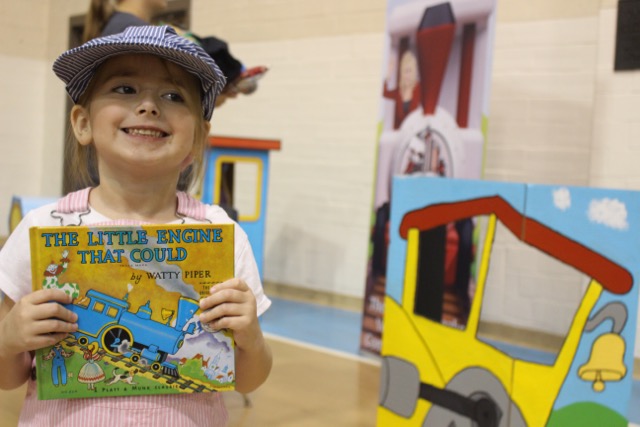 This year, KVEC and CCLD are keeping the Imagination Library train rolling through eastern Kentucky. Dozens of dates are now scheduled and more counties are signing up everyday. Below is a list of upcoming events, where you can catch the book train near you! Any guardians can sign up children and pick up their first book, The Little Engine That Could, while supplies last.  Multiple children can register per household, as long as they are under five years old, preferably before their 4th birthday. Online registration will soon be available. To learn more check out the Imagination Library Holler or contact Jim Tackett @jtackett.
---
Upcoming Imagination Library Events:
March 31 – WOLFE COUNTY – Campton Elementary (5:00 – 7:00 p.m.)
April 1 – PIKE COUNTY – Elkhorn City Elementary (10:00 a.m. – noon)
April 2 – PIKE COUNTY – Pikeville YMCA (11:00 a.m. – 1:00 p.m.)
April 5 – HARLAN COUNTY – Rebecca Caudill Public Library (1:00 – 4:00 p.m.)
April 7 – HARLAN COUNTY – Harlan Public Library (noon- 2:00 p.m.)
April 7 – HARLAN COUNTY – Evarts Public Library ( 3:00 – 5:00 p.m.)
April 15  – PIKE COUNTY – Valley Elementary (10:00  a.m. – noon)
April 19 – JOHNSON COUNTY – Johnson Co. Public Library (9:30 a.m.– 8:00 p.m.)
April 19 – JOHNSON COUNTY – Johnson Central High (5:30 – 7:00 p.m.)
April 25 – BREATHITT COUNTY – LBJ Elementary (5:30 – 8:00 p.m.)
April 29 – PIKE COUNTY – Johns Creek Elementary (10:00 a.m. – noon)