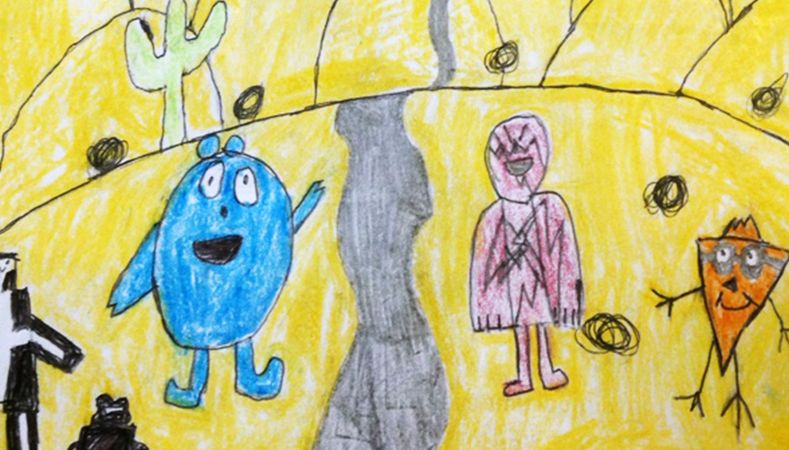 The Success of a Community.
The first sub-Holler ever created on theHoller.org was about comics and cartooning. If you go back through the beginning sketches of what would become The Holler social learning network you would see many references to cartooning and sequential art in the brainstorming process. However, it was always expected to be a very small niche community within the bigger platform. One year later, the most robust and heavily trafficked sub-Holler community on the site, of which there are more than 50, is populated by students from Eastern Kentucky creating sequential art and comics through ARI's Virtual Art Gallery program.

Kelli Thompson talks about the success of the project and the new additions happening now.
The Virtual Art Gallery, headed up by ARI's Kelli Thompson and Elkhorn City cartoonist Christopher Epling, has been a great example of what is possible on The Holler social learning network. Taking advantage of all of the tools at their disposal, the Virtual Art Gallery traveled through the region creating in-person videos at a new school each week. Sessions were recorded on location and later posted to The Holler. Epling would also visit The Holler studio on a bi-weekly basis and create more focused and hands-on tutorials for students to follow along while they worked on creating their stories. During the height of the project, the 130 sub-holler members accounted for 75% of the daily traffic on the site.
The Holler social network feed allowed Epling and the students throughout Eastern Kentucky to converse through a digital platform, with students sharing their works in progress and Epling providing feedback and encouragement on how to move forward. The Virtual Art Gallery forum allowed for content to be broken into categories and individual questions to track user comments and engagement across a longer span of time. Students and teachers shared artwork on a regular basis allowing for collaboration and sharing across districts and schools, connecting students who otherwise may not interact with one another.

Christopher Epling discusses his goals for the project.
Takeaways from the first Virtual Art Gallery session will be a large contributing factor to upcoming theHoller.org website and social network updates. Soon, there will be a new media upload tool and the ability to tag people in the photograph or artwork that is being uploaded. The most successful elements of the sessions involved the how-to components of Christopher's work rather than just the finished products. Going forward, this idea will be very important and will inform the best-use scenarios for sharing information on The Holler.
In the coming months, the Virtual Art Gallery sub-Holler will be populated with finished books from the spring 2015 session and new sketches from the Legends and Leaders workshop happening now.

UPIKE students David Chapman and Eric Helvey profile cartoonist Christopher Epling.