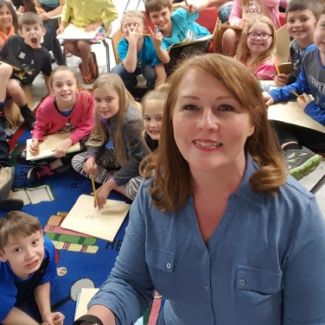 Crystal Smallwood, in her 32nd year in education, is utilizing technology in creative ways as the librarian at Jenkins Independent to promote learning for students who may not have Internet access at home.
 Crystal credits her parents, who were both avid readers, to pursue a career as a librarian.  "My parents shared that love of reading with me. All I ever really wanted to do is work in a school library, stay up-to-date with the most current literature and share the love of reading to my students."
She began her career as the school media librarian at Dorton Elementary in Pike County where she worked for 27 years.  This is her fourth year as the librarian at Jenkins Independent.  She spent one year working as an environmental education teacher for the PRIDE Program in Pike County.
Crystal used an "Innovation Grant" $1,000 award she earned through her proposal to the Kentucky Valley Educational Cooperative (KVEC) to purchase "Play-a-ways" for students who would like to take a story (an audible eBook) home with them.
Crystal explains the need for the proposal, "Jenkins Middle High is a 1:1 school meaning each student has access to a digital device.  Every child has their own personal chrome book.  Every teacher has both a personal classroom device and a mobile laptop.  All teachers have interactive whiteboards.  In addition to these chrome books, many classrooms also have sets of learn pads and IPads.  
"Even though every child has access to their own chrome book, at the end of the day- those devices must be left at school.  Because we have some students without internet access at home, they are not able to use our eBook library after school hours.  This means that other students who do have internet access have an advantage over the others.  Students with home internet access have more opportunity to reach their Accelerated Reader Goals because they have access to more audible, interactive books via our school eBook library.  This is why I decided to write a project proposal for an innovative grant titled, "Put a Story in Your Pocket."  
Students can check out a play-a-way just like they can check out a print library book. Crystal adds.  "A Play-a-way is a small box with an mp3 recording of an audible book housed inside.  They just put the device in their pocket, plug in their earbuds and listen away.  I am very grateful for the opportunity to use innovative grant funds to level the playing field for my students."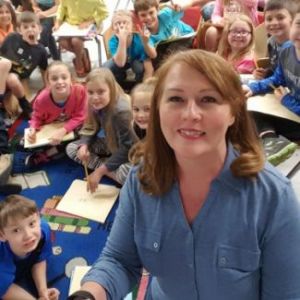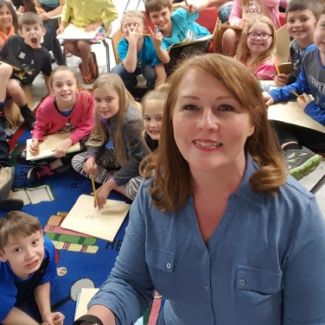 Crystal is proud of the Jenkins library and its use of technology.  The mission of the Jenkins School Library Program is to provide both students and staff with an inviting place, which fosters collaboration through the use of technology and quality resources while teaching students 21st-century skills in order to create a culture of lifelong learners, she adds. The school library is well-equipped with technology.  We have twenty-five iMacs, a MondoPad, two ceiling-mounted projectors and best of all, an eBook library of over 7,000 books.  We access our eBooks via the internet.
Crystal recalls when she began her career, computers were just beginning to be introduced into the school system.  "One of the first tasks I had to complete was to get the school library entered into a library automation system. With the help of high school typing students, we entered around 9,000 marc records for the school library collection.  This was my first real computer experience.  The printer, the desktop computer, and software to run it was more than $10,000.  It took years to be able to afford computers, software, and printers for classrooms.  At that time, I could not imagine having the technology we have today in our school systems."
This is Crystal's second Innovative Grant.  She received a grant last year titled, "Listen and Doodle."  She used the funding from that project to get a couple of iPads for her students to use for taking pictures for projects, a listening center so up to 16 children at a time can listen to the same audiobook and also a multifunction machine (records, CDs, mp3s, phones) they can use in the listening center. 
As part of her project funded through the KVEC  "Race to the Top" federal funding by the U.S. Department of Education, Crystal was one of over 100 instructors who presented at the Forging Innovation in Rural Education (FIRE) Summit, a multi-district K-12 educational professional learning event October 25 in Pikeville, KY.  More than 17,000 viewers, from 15 countries and 42 states, tuned in to the live stream provided by KVEC's digital platform the Holler to watch Crystal's and the other presentations.
Crystal Smallwood's and the other presentations can be found on the www.theholler.org.