KVEC's FireCast Minisode is a new 3-5 minute video production highlighting classrooms innovations that are forging a new path for learning that could lead to a new economy in Eastern Kentucky.
Mrs. Shirkey has implemented digital notebooks in Geometry. Students use #myBrand to keep up with daily notebooks. Mrs. Shirkey implemented BRAND 2-years ago to help students organize classroom time and information.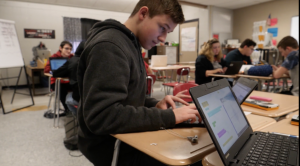 BRAND is an acronym Mrs. Shirkey came up with on her own to help guide students through the process of keeping a digital notebook.
B – Bellringer – Daily question of the day.
R – Response – Explain how the students arrived at their conclusion.
A – Activity – The agenda for that day, what do they expect to happen during the class period.
N – Notes – Notes about each lesson of the day.
D –  Debrief – A self-reflection on the lesson.
Mrs. Shirkey showed what prompted the use of Digital Notebooks and how things have been going in the classroom ever since. Her classroom is now one-to-one meaning every student has there own digital notebook to use. Technology in the classroom provides a direct impact on student engagement. Everything is online for her students if a student misses a day of school they can then go online and access the lesson for that day.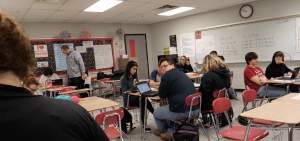 If you would like for your school to be involved with FireCast or a FireCast Minisode be sure to fill out the application through the link below.