Forging Innovation in Rural Education
Today's classroom might feel a little different than you remember, even if you've only been out of school for a short time. Teachers are often at the forefront of finding new ways to engage their students by integrating new technology into their curriculum. KVEC's FireCast TV is a new half-hour traveling program that will highlight these new classroom innovations that are forging a new path for learning that could lead to a new economy in Eastern Kentucky.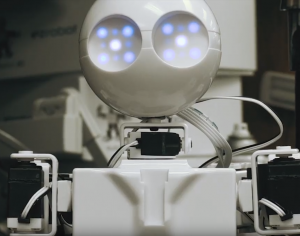 For the first episode, the Holler production team traveled to Belfry High School to learn about their STEAM program, consisting of twenty-five freshmen grouped together for their Algebra 1, English 1, and Science classes. Within this class, students will be working on robotics, 3D-printing, coding, and building/programming drones. During this first year, teachers and students will continue to reflect, collaborate and troubleshoot any obstacles that may occur to allow for smoother experiences in future classes.
Within just a few minutes of talking to students, it was easy to see the attention to detail and impressive application of advanced physics and mathematic theories being applied to practical and engaging class projects. What began as an entertaining spectacle, the student's robot JD doing pushups on the lab floor, quickly turned into the scientific conversation as the students described the robot's programming and use in senior citizen centers as a trainer and potential aid to the nursing staff. The impressive amount of knowledge and project demos only grew from there, delving into advanced robotics, experiments with hydrogen and homemade batteries, and computer programming.
Eastern Kentucky schools really are forging innovation in rural education. Tune in to the first full episode of FireCast TV and come back in the coming weeks to learn more about the classroom experiences, ingenuity and drive of students, teachers, and administrators through the KVEC region.
If you would like for your school to be involved with FireCast be sure to fill out the application through the link below.