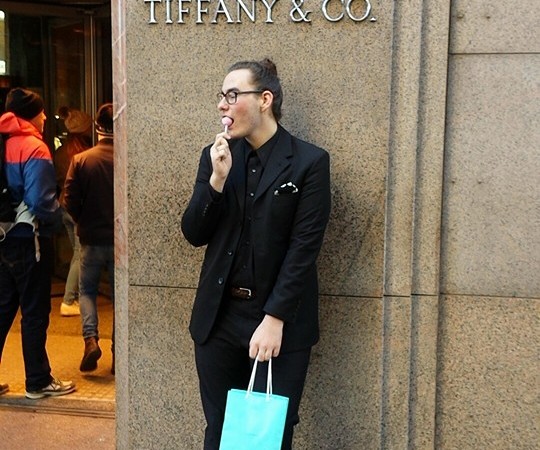 The thoughts that enter your mind while walking along 5th Avenue define who you are as a person. Oscar Wilde once wrote that, "Fashion is a form of ugliness so intolerable that we have to alter it every six months." That must've been what went through his head when he was shopping for his dandy fashions in the Victorian era. I take a more psychological approach. I have a void, and really who doesn't, that must be filled with something. Hold all jokes. My void can be filled with shopping.  For instance, the mysticism that comes with walking into Chanel can hold my emotions captive for at least 36 hours. Number Five, a brooch, and voila-no more internalized sorrow. You can imagine the delight I derived from seeing the Bergdorf catalog come to life block after block. The saddest portion of this whole affair comes that day and a half later. You're no longer at Chanel, or Tiffany's; you're at home with another item on another rack or in a box. Manhattan is prime real estate for the person who sublimates rage or sadness by reaching for their wallet.
I'm not rich; I don't claim to be. I simply work for what I get, and that's how I justify the expense. When you're shopping on your own dime, the world is at your feet; and if the staff at Barney's knows you have a card, they'll be at your feet too. It's thrilling. It's chilling. It's B.O.N.A. The love you didn't receive in your last relationship, or as a child, is now waiting in the hands of an impossibly snatched associate clad in black. Its vicious, it's capitalism, I love it.
I always wonder what must be going through the minds of the sales associates spending their lives to serve you and garner a commission. It must change depending on designer and department store. It's just like high school. Does the elevator assistant in Tiffany's actually enjoy your sense of humor, or is he using you? Does the woman working the Clive Christian in Bergdorf Goodman actually think your Calvin Klein Suit is fancy enough to be worn in her store, or does she just want you buy the $860 bottle of Number 1? These are questions we may never have answers for.  The string of thought based on the psychology of shopping is a scary stream of thought indeed.
I pride myself on being En Vogue, and many people don't appreciate that at all. Maybe it's boring, maybe it's pointless, and maybe it's detrimental to my character. All I know is that the cashiers at Jo Malone are so beautiful that it hurts and seeing pretty people can brighten anyone's day. I kid, but really… My point, and I know we're all searching hard for it, is that Haute Couture and Pret-a-Porter are therapeutic for me personally. I was the happiest I'd been in 13 months when I waltzed into Hermes and purchased my one of a kind silk scarf. You really can't ask for that kind of care from anyone with a PsyD.
The Author