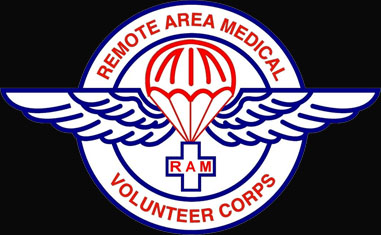 Remote Area Medical (RAM) will host a Free RAM Medical Clinic here in Hazard, Kentucky at East Perry Elementary School (301 Perry Avenue Hazard, KY 41701) on June 23rd and 24th.
RAM offers free, high-quality vision, dental and medical services on a first-come, first-serve basis. No insurance or identification is required. This event is free and open to the public.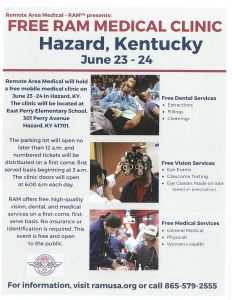 Free Dental Services
Extractions

Fillings

Cleanings
Free Vision Services

Eye Exams

Glaucoma Testing

Eye Glasses Made on Site (based on prescription)



Free Medical Services
General Medical

Physicals

Women's Health
The patient parking lot will open no later than 12 AM and numbered patient admission tickets will be given out beginning at 3 AM, one ticket per patient. Clinic doors will open at 6 AM. Patients will be admitted in numerical order by ticket # and a ticket is required for admission. Dental, vision and medical services are provided on a first-come, first-serve basis. Due to time constraints, be prepared to choose between DENTAL and VISION services. Medical services are offered to every patient attending the clinic.