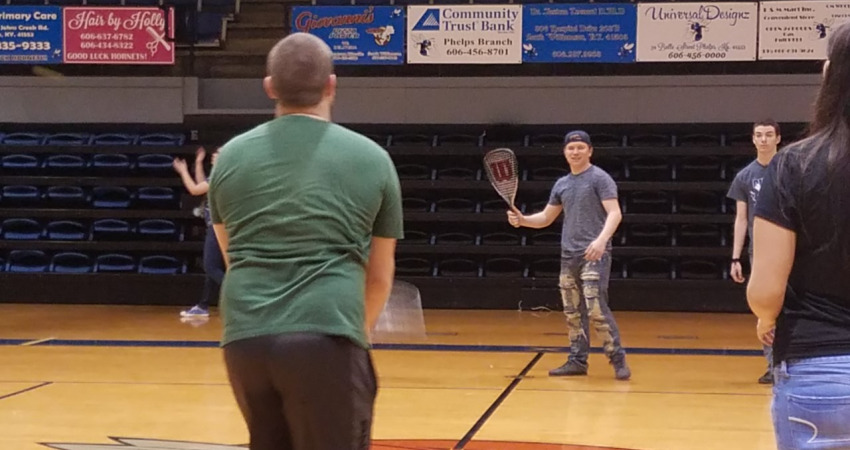 Kellie McLellan, a teacher at Phelps High School, has challenged the Hornets to "Get Fit".  Seventy-five percent of the students surveyed at the school reported that outside of classes they participated in less than 20 minutes of vigorous physical activity a week.   Survey data revealed that, on an average, students only participated in physical activity two days a week and, in general, did not have a "like" or "interest" in being physically active.   During the 2016-17 school year, Mrs. McLellan implemented an innovation grant, sponsored by Kentucky Valley Educational Cooperative and Appalachian Renaissance Initiative,  that would inspire students to become more physically active.  The grant would also introduce the students to new ideas and concepts and make students aware of just how little they did for their own physical fitness.
Mrs. McLellan provided students with traditional activities such as badminton, bowling, mini-golf and table tennis.  But she also grabbed the their interest by using new innovation available with the grant funds. The students were given the opportunity to use fitness bands, yoga playing cards, bodyweight playing cards and other new ways that looked a lot like ways to play and have fun. They were able to understand and use techniques of Yoga, and the fitness bands helped students realize how much they exercised to keep physically fit.
Post activity surveys showed that 100% of the students increased their physical activity levels to 30 – 60 minutes a day at least three days per week!   The challenge successfully introduced the Hornets to sports and activities they were unfamiliar with. The students now have the knowledge and skills that will help them become active, healthy adults.
Author: Rosalind Stanley