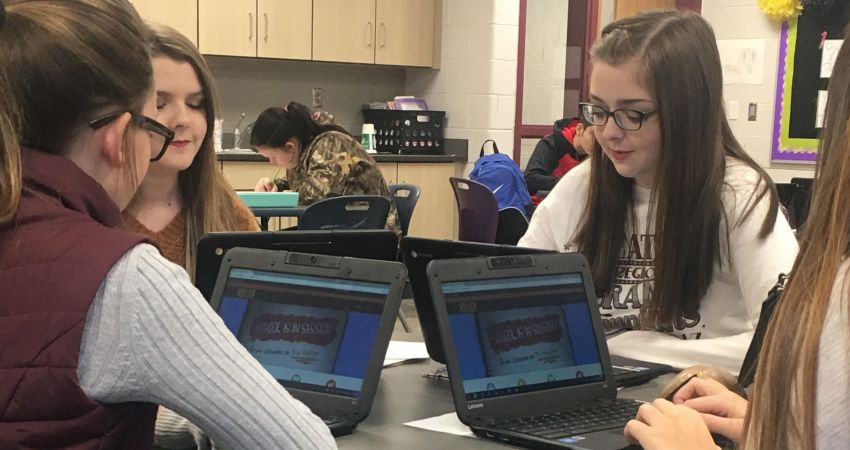 As an educator in the field of art, I sometimes feel overwhelmed and exhausted when trying to find opportunities for my students to experience new things in the art world. Due to the lack of funding in education, overall, I rarely ask for art supplies. We seldom ever have opportunities to leave our classroom, aside from virtual tours we find online. During the last several years, my classes have participated in many projects associated with KVEC and The Holler. These innovative projects have given my students opportunities to have experiences they would never have, otherwise.
Grant money made available to us through KVEC has provided our school with a 3-D printer, a state of the art camera, and a kiln and potter's wheel. These items have brought great joy to the students in my classes. This year, we were presented with a new project opportunity; online learning. After hearing about the online Graphic Arts Course on The Holler, I approached my students with the overall course concept, and many were interested. In October, the course instructors met for a training in Hazard. It was an extremely informative day. I left that afternoon feeling very enthused and excited for this unique opportunity.
Several of my students chose to join the course, and after compiling a list of those students, we set off to travel on the Holler. We created their accounts, joined the course, and began watching the instructional videos. My students began sketching and making lists of possible project ideas. I am trying to incorporate the course into my Visual Art classes to keep them on track to meet the deadline before Christmas break. Also, some students do not have reliable technology available outside the school setting. This makes completing online assignments and videos impossible for them.
My students are very excited about their final products and are looking forward to completing the class. After discussing possible project ideas, I have discovered we should have a variety of ideas presented in the spring. Until then, we will continue to travel.