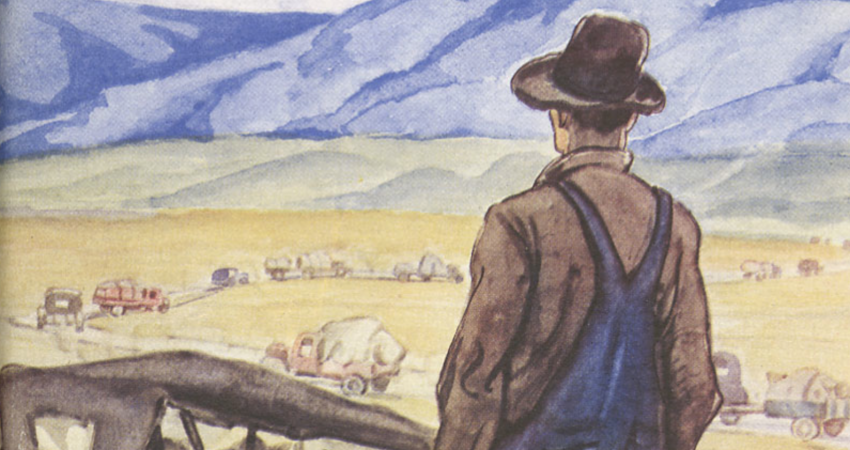 The Grapes of Wrath was written by John Steinbeck in 1939. Steinbeck was inspired to write it because he wanted to draw exposure to those responsible for The Great Depression and the effects that followed. After all, the book was published at the end of The Great Depression and during the "Dirty Thirties," otherwise known as the Dust Bowl.
The novel follows the family of Tom Joad as they venture out of the dusty lands of Oklahoma to what they think will be the utopian California. They believe that there will be plenty of food and work there. Of course, the trip is not easy and California isn't a utopia, but I won't spoil it for you.
The Grapes of Wrath is a lengthy book but it is more than worth reading. Mark Twain's Adventures of Huckleberry Finn is typically regarded as the "Great American Novel." However, Steinbeck's tale of perseverance is an excellent contender as well due to it being such an exemplary example of the human will to survive and adapt to adverse conditions. The trip to California isn't easy for the Joads, but it is a trip they must make.
It may not seem like the typical book you would bring along to the beach for some light reading, but perhaps The Grapes of Wrath should be at the top of your "To-read" list for the summer. It will give you something to ponder, and in the words of Tom Joad, "You're bound to get idears if you go thinkin' about stuff."
If you love to read please join us in The Holler Book Club – a space to share reviews and recommendations.
Sarah King is a 17 year old senior at Letcher County Central. After high school she hopes to major in English and become a teacher. Until then, she is content reading books and writing in her free time.
The Author