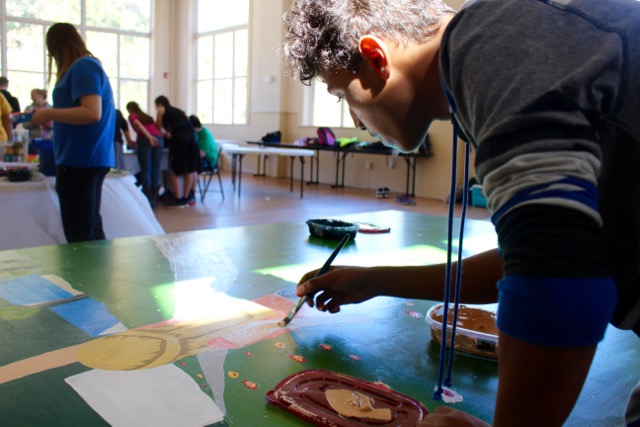 With rays of sunlight and fall colors flooding the space in old Jenkins High School turned upscale Senior living, Jenkins students painted familiar scenes of their community. Art teacher Gina Sparks brought her Art I and II students to "support the project and get this kind of exposure" connecting classrooms to community and "inspire students to be more creative in directing their own work."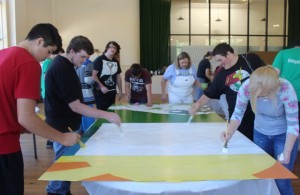 Appalshop, a place-based media arts and education center nearing its 50th anniversary,  partnered with the City of Jenkins on this Our Town project and began mural planning back in the Spring with community visioning gatherings. The National Endowment for the Arts (NEA) Our Town grant program supports creative placemaking projects that help to transform communities into lively, beautiful, and resilient places with the arts at their core, according to www.arts.gov.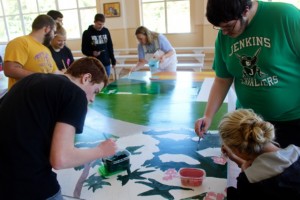 Letcher County artist Lacy Hale and Pam Oldfield Meade used the community visions to create a paint-by-numbers design on nine 15 x 10 feet panels. After dozens of community painting parties like this one, often including Seniors who live in the building, the mural will cover 45 feet along Route 3086 off Highway 23, as you enter Jenkins near the Little Shepherd Amphitheater.  The new display will be just across from Jenkins Middle & High School so students told Mrs. Sparks once the mural is completed they want to get a group picture in front of the new community art they helped create.
"I heard about this last year in a photography class at AMI and was excited our class could help. My favorite is to paint still life and we've been working on apples so when I got here I started painting the apples on the apple tree. All the green in the mural really looks like Jenkins. You can't even see my house on Bentley's Loop for all the trees." – Cheridan Wolford, 10th grade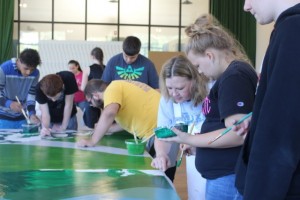 Starting with black and white panels representing the past, light rays from coal miner's head lamps shine color into the 'present and future' of the mural. A path runs through the piece, connecting all the panels. Along familiar Jenkins scenes like the lake, a mother and daughter ride bicycles, a young girl plays dulcimer as her cell phone lays in the grass next to her, and another child reaches high into a tree to pick an apple.
"We wanted the theme of past, present, and future to really reflect growth and prosperity in Jenkins. Thats what came out in the community gatherings to envision the piece. People were most focused on the future," shared artist Lacy Hale, whose murals can be seen in downtown Hindman and Lexington, among other places.
While students painted, Lacy and Mrs. Sparks shared their experiences trying to be full-time artists in the mountains. Mrs. Sparks said too often she hears "its just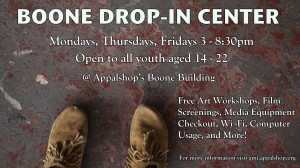 art" and brought her students to this project to give them a different perspective on how vital art is to life and community. To round out the day, Lacy introduced students to the Appalachian Media Institute (AMI), inviting them to apply for paid summer documentary film internships and a brand new youth drop-in center opening on October 15th at 5 pm at the Boone Motor Building in downtown Whitesburg.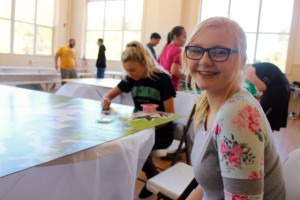 The mural should be unveiled at its new home in a few weeks. Visit Appalshop for more information on the Our Town project or AMI. You can contact either artist directly by following the links on their names above. If you'd like to incorporate more standards-based art into your east Kentucky classroom of any content area or grade level, visit the Art Workshop here on the Holler made available for free through the Kentucky Valley Educational Cooperative.