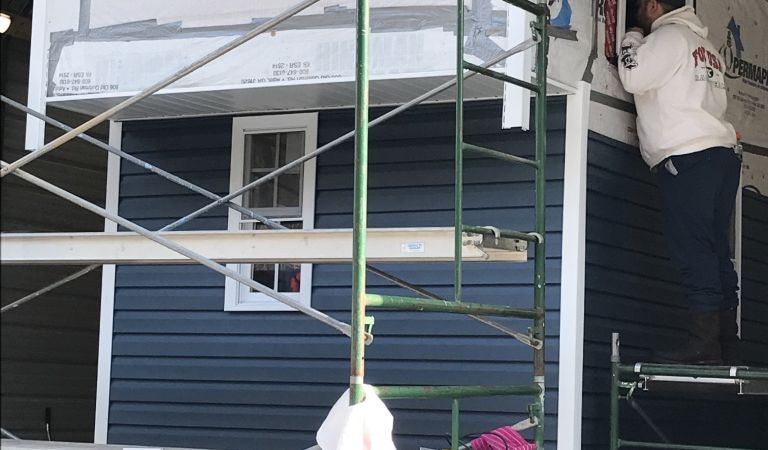 As the clock ticks and April 12th approaches, students at Knott County ATC are working diligently to complete the tiny house project.  Mr. Sparkman, carpentry instructor, believes "we will see a lot of progress by the end of this week".  Students in the carpentry class and the Building Apartments and Maintenance (BAM) course have joined efforts to ensure that this project is a success.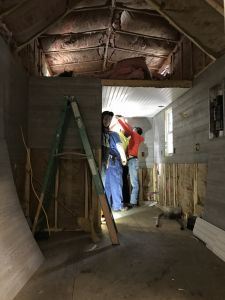 Joe Fortney, senior at Cordia High School, remarked that he has "learned a lot…from wiring to putting up insulation and doing siding".  He said it "gives you a chance to see what you can do".  Joe is in the BAM class, taught by Teddy Martin, because he says in this class "you do it all…electricity, welding, carpentry".  He plans to attend Hazard Community College and major in carpentry or HVAC while working for a construction company in Hazard part-time.  Joe is excited about a couple of differences in their project compared to the other two tiny houses being constructed in the region.  Knott County's house is taller.  According to Joe, "It has two stories.  In the loft there is a cutout in the floor for the bed to go down in.  It's really cool."
Justin Beverly and Brad Breeding, seniors at Knott County High School and students in the carpentry class, both shared their thoughts on the tiny house project.  The two of them were part of the group that initially designed the tiny house.  Justin said, "It has kept us busy all year".  After working on the flooring, doors, paneling, siding and other aspects of the project, Justin feels like if he ever has to build a house "he would know what to do".  He believes the project is "worth doing every year".
Brad remarked that he has "done it all, but the most fun and most aggravating part was putting in the windows".  He said they "have had all kinds of plans, but they get changed every day".  Brad is confident that their tiny house "should bring at least $20,000."  Both Justin and Brad said they could live in the house and would "buy it if they had the money".  Justin would like to park it in front of his home and if he decided to go camping "just take it with him".
The students realize they will be spending many hours in the next two weeks on the completion of the project.   The three tiny houses constructed by students in the KVEC region will be on display at the Expo Center in Pikeville beginning on the afternoon of April 11 and running through April 12 (FIRE Summit).  Online auction will open at noon on April 12.