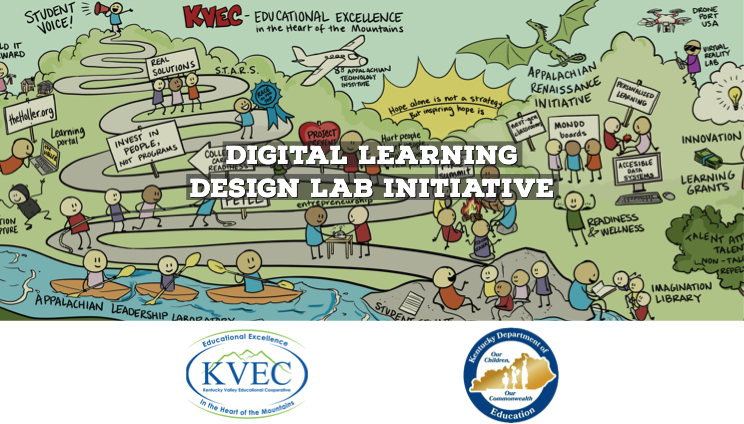 The Kentucky Valley Educational Cooperative in partnership with the Kentucky Department of Education will launch a Digital Learning Design Lab for school districts and educators across the KVEC region.
The Design Lab will provide educators with resources, tools, strategies and opportunities to work together to discover solutions and best practices critical to successful teaching and learning in a digital framework. The Lab will support districts, schools and educators as they intensify their knowledge-base and professional practice to enhance their ability to teach with expanded Digital tools and resources.
The "Launch" will be conducted virtually on August 4th, 2020.  You can click the link https://kvec.zoom.us/j/93071716027 or picture above to be able to join the webinar. We can also find the Zoom webinar link on our Facebook and Twitter accounts as well.
The Launch Agenda including start times and brief session descriptions is below. Each session will be led by a team of practitioner experts drawn from KVEC, KDE, District/School leadership, teachers and students (when appropriate).
9:00 – 9:30 – Digital Learning Design Lab Overview and Introduction
This session will establish the initiative's relevance, provide overarching perspective and reinforce that we're building an evolving system that will include a Digital Professional Learning Portal connected to our place-based Social Learning Network (www.theholler.org) and an expanding network of practitioners who will share best practice, function as a learning community and create opportunities for anytime anywhere learning (for educators and learners).
9:30 – 10:30 – Access @ Home
This session will focus on connectivity and access to a digital device and the Internet for every student. The session will examine major components critical for consideration that include, devices, internet access, advocacy, surveys, etc. The discussion will center on building a student and teacher device footprint capable of anywhere, anytime learning as well as building community partnerships to assist families in getting connected.
10:45 – 11:45 – LMS Consistency
This session will focus on the need for every school to adopt and utilize a Learning Management System (LMS) that provides a consistent platform for structured student digital learning experiences. The session will also discuss the need for an LMS to provide teachers, students, parents and administrators a shared space for communication and instructional support. The session will provide input and consideration on how a LMS can serve as a gateway and does not limit digital instruction.
12:30 – 1:30 – People (Supports)
Districts and schools that build a collaborative leadership culture are best positioned to envision and execute a digital learning initiative as well as pivot in times of need. A critical component of any successful digital learning initiative is the assembled team of support. Digital leadership and technical support is a must. Successful schools and districts are accelerating supports provided by Digital Learning Coaches and Library Media Specialists. Collaborative support structures make it possible to improve workflows across grade levels, content areas and job classifications.
1:30 – 3:30 – Digital Learning Experiences
Quality digital learning experiences start by shifting the focus from teacher-led instruction to personalized student learning and products. Teachers are enabled by access to high-quality digital resources and content, supported through personalized professional learning strategies, and vigilant in protecting student data privacy. The focus of any type of instruction is learning outcomes. The shift to digital learning also requires a shift to students demonstrating learning via digital products of their own creation. This transition to reconsidering what digital learning outcomes can/should look like is vital to success.
The Launch Day sessions will establish a sense of urgency among participants and leverage opportunities to focus educators attention on each of the four Digital Strategies and their importance.
Each session will begin with a panel conversation that focuses on the critical questions associated with each topic AND demonstrate how each is interconnected to the whole. The informative panel discussions (Panels made up of school and district expert practitioners and recommended KDE staff) will be followed by questions and suggestions from the participants. All sessions will be archived for future use at the school and district level.
The Launch Day event will serve as a beginning to the broader and deeper professional learning initiative that will be built around our Digital Professional Learning Portal and the networking/coaching/sharing embedded in the Portal's Design. Our effort will be to "flip" professional learning.