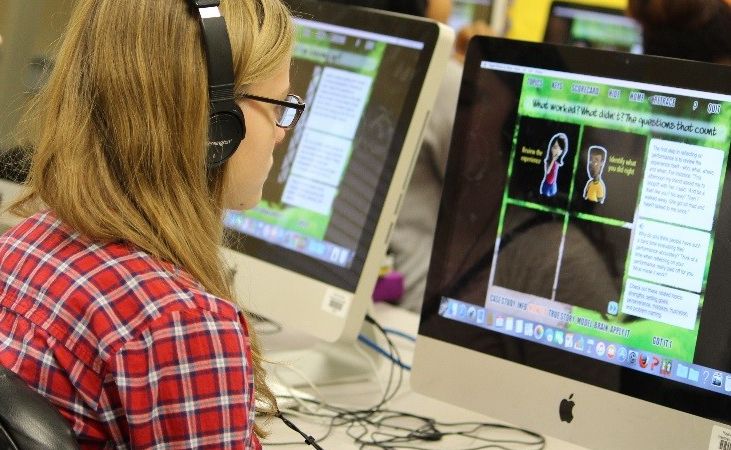 Applications to join KVEC's Project Prevent/Ripple Effects Final Cohort are available through September 14!  We are entering the final year of a 5-year grant to implement the Ripple Effects Social Emotional Learning software into 70 schools.  Just because the grant is ending does NOT mean that your access to the program is over as well; so your students will be able to benefit from this program indefinitely!  
Information on the Ripple Effects software program and the link to apply for Cohort 5 can be found at rippleky.org  The program is computer-based with two student versions, Kids for grades 2nd-5th, and Teens for 6th-12th. Both versions offer hundreds of age/grade appropriate topics; everything from acne to addiction and abuse.  (Many schools use topics to fulfill that elusive technology component in Health Classes) Schools are given the freedom to customize their content, dosage, and delivery to meet the needs of your individual school.
This three-tier intervention system offers advice to anyone.  There are many universal topics such as organizational skills, respect, impulse control, and many more character education topics.  A variety of pre-mapped scopes and sequences are available to help with tier 2 and tier 3 students for discipline intervention and more serious emotionally driven topics.  The data manager provides documentation of these interventions! This program is especially helpful in ISS, assign topics to help the student get to the root of the behavior that caused the disruption!
In addition to the student versions, there is also a Staff version that is split into the following three modules:  Leadership Skills – to help with classroom management, etc., Diverse Learners – to assist teachers in how to best relate and reach the variety of learners in their class, and Implementation – help on the nuts and bolts of how to run the program successfully.
Finally, each school will also receive the program "Screen for Strengths", this computer-based screening tool gives the student awareness on their level in the following attributes: Self-efficacy, Impulse control, Emotional regulation, Assertiveness, Empathy, Connection to community, and Decision-making skills.  By administering SfS before the Ripple Effects program, it offers a baseline to you and the student which can be compared at a later date to their results after they have been using the Ripple Effects software.
If you would like to learn more, I am more than happy to arrange for a short demonstration and discussion about the entire software suite of programs.   
Email – lisa.garza@hazard.kyschools.us
Don't miss this opportunity to bring this valuable resource to your school and students!