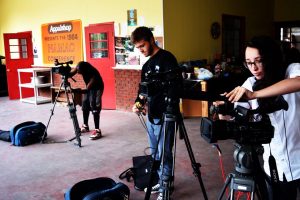 Appalshop, Inc. in Whitesburg and Southeast Kentucky Community and Technical College have developed two Accelerated Certificates to meet the current needs of local employers.  They are now accepting applications until January 5th to go through the new collaborative technology training program, called Mines to Minds. Partnerships with employers are growing to create potential employment opportunities available for students going through these Accelerated Certificates.

The two Accelerated Certificate options include Systems Administration (IT Networking and Support) and Multimedia Design and Implementation (designing, creating, marketing, and branding using high tech software tools and websites).  If either of these certificates spark an interest with you, sign up here.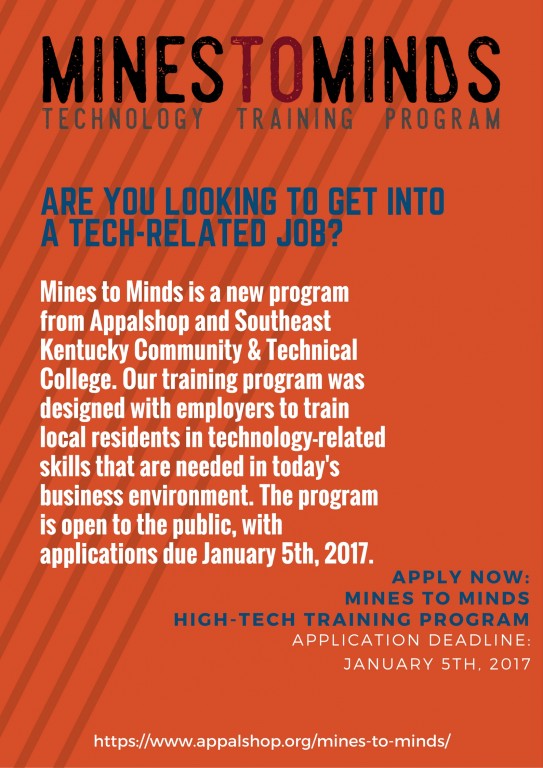 Participants will spend the Spring semester, January-May, taking courses (both online and in person) at the Cumberland Campus of Southeast Kentucky Community and Technical College.  After completion of the semester, graduates may be eligible for a paid apprenticeship with a local employer.  Program training continues from the classroom to hands-on while on-the-job.  These employers are growing and looking to offer employment opportunities to their successful students.
Fill out this application before January 5, 2017 to be considered for this opportunity.  Appalshop will assist applicants through the details of enrolling at SKCTC and being trained to work with local employers and their technology needs. There will be an orientation on Friday, January 6, 2017 for those that applied to Mines to Minds and enrolled at SKCTC.
Contact Shawn Lind at Appalshop with any questions at 606-633-0108 or [email protected]